Is your toddler bored of being cooped up indoors all the time? If so, it's time to start exploring fun outdoor activities that the whole family can enjoy. Fresh air and sunshine are essential for good health, so outdoor play is a great way to ensure your toddler gets enough exercise and vitamin D.
Plus, outdoor play is a great opportunity for sensory exploration, as toddlers can touch, smell, and see all sorts of new things. And best of all, outdoor activities are usually free or very low-cost. So get ready to have fun in the sun with these outdoor activities perfect for toddlers and preschoolers.
Unfortunately, there are some times when it is not possible to play outside, like when they are sick or it's raining. There are also a lot of fun indoor activities for toddlers to keep busy. Or, if you are looking for something your toddler can do independently for a while, screen time may be an answer. For educational screen time, check out these Free Learning Resources for kids.
What are physical activities for toddlers?
Any parent of a busy toddler knows that it can be hard to keep them entertained. They seem to have boundless energy, and they often get bored quickly. However, there are many outdoor activities that are perfect for busy toddlers. These activities are not only fun, but they also help to burn off excess energy.
These outdoor activities are all toddler-approved and will keep your little one busy. So next time your child is feeling restless, head outside for some outdoor fun in the sun.
Activity Ideas for a Busy Toddler or Preschooler
1. Tell stories while acting them out.
Looking for some fun outdoor activities to keep your toddler entertained? Look no further than their imaginations! Acting out made-up stories is a great way to encourage active play and use up all that toddler energy. And the best part is that you can tailor the activity to whatever your toddler is interested in at the moment.
If they're loving dinosaurs, pretend to be a baby T-Rex being born. Or, if they're into fairies, pretend to be a fairy trying to find her way home. You can even involve older kids in the fun by asking them to help come up with ideas and play along. So next time your toddler feels restless, grab some props and head outside for imaginary fun!
2. Go for a nature walk.
Going for a nature walk is a wonderful way to have some outside fun with your little ones. It's a great way to get some fresh air and explore the world around you. Plus, it's a perfect opportunity to teach your kids about nature and the environment.
Point out different flowers and talk to them about the colors or how they grow. Find some bugs. Collect rocks along the way. Get your toddlers and preschoolers interested in nature and all things in it.
When you go for a nature walk, bring a camera so you can snap some pictures of your little ones enjoying the great outdoors. And don't forget to pack a few snacks and drinks so you can all refuel after a long day of exploring.
3. Have a picnic.
One easy outdoor activity that toddlers can enjoy is having a picnic. All you need is a blanket, food, and a few toys, and you're good to go! Picnics are one of the outdoor activities everyone loves and are perfect for days when you want to spend time outdoors but don't necessarily want to go anywhere.
Cut up some sandwiches into cool shapes. Easily cut sandwiches, fruit, and veggies into shapes with these awesome shape cutters! Or make some fruit kabobs for a fun way to eat fruit. You can even have your little ones help prepare the food to bring.
Just spread the blanket in your backyard or a nearby park, and let your toddler explore. They'll have fun coming up with new games to play and ways to eat their snacks. And when they're all tuckered out, they can take a nap right there on the blanket. Best of all, picnics are completely free! So next time you're looking for a fun activity to do with your toddler, consider having a picnic.
4. Paint or Draw
Painting and drawing are great outdoor activities for happy toddler playtime, and cardboard is the perfect canvas. Most toddlers are fascinated by art supplies and love exploring new textures and colors. Cardboard is a great material for toddlers to experiment with because it's sturdy and easy to handle. Plus, it's a giant canvas, so your toddler can really get creative.
Painting on cardboard is also a great way to reuse materials that would otherwise be thrown away. To get started, simply gather some old cardboard boxes and flatten them out. Then get some washable paint, crayons, or markers. Then let your toddler go to town with a paint brush or crayons.
No products found.
5. Bubbles!
One of the toddlers' simplest and most enjoyable outdoor activities is playing with bubbles. You only need a bubble solution and something to blow the bubbles with, and your little one will be entertained for hours. All kids love bubbles.
Bubbles fascinate toddlers, who love watching them float through the air and pop when they touch something. Plus, chasing and popping bubbles is a great way for toddlers to get some exercise. If you're looking for a fun and easy outdoor activity for your toddler, bubble blowing is a great option.
My kids can't get enough bubbles. So we have to always make sure to have it on hand. I love this bubble solution; you can buy it in bulk, so you never run out.
6. Sidewalk Chalk.
Sidewalk chalk is a great way to get your toddler's creative juices flowing. Encourage them to draw pictures, write their name, or trace their handprints.
For older kids, sidewalk chalk can be used to create complex art projects or to play fun games like hopscotch. It's also a great way to get them outdoors and active – something that's important for all kids.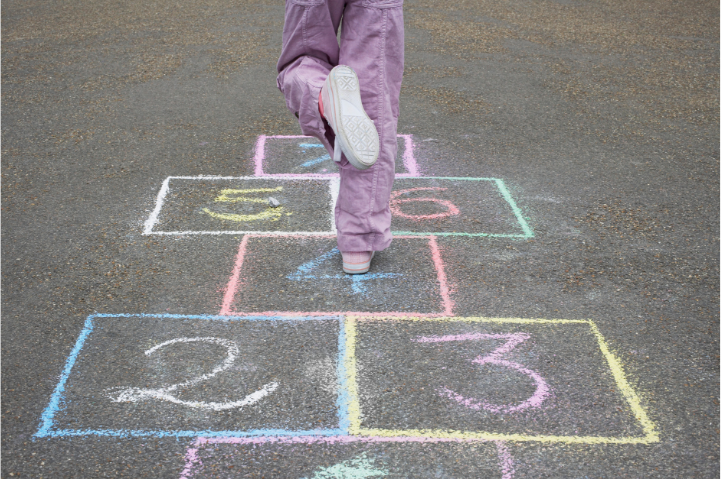 Best of all, sidewalk chalk is relatively inexpensive and easy to find. And when they're done, the drawings can be washed away with a little water. Whether you're looking for a way to occupy your toddler for a few minutes or an activity to keep the whole family entertained, reaching for some sidewalk chalk is a great idea. So grab a box and head outside for some fun!
7. Go to the park.
The park is a great place to take your toddler for some outdoor fun. There is plenty of toddler approved outdoor activities to keep them entertained, from swing sets and slides to climbing on the monkey bars. And best of all, it's completely free!
Spending time in the great outdoors is important for your toddler's development, so make sure to take them to the park as often as you can. They'll have a blast and you'll get some much-needed fresh air too.
8. Garden
If you have a busy toddler, you may think gardening is out of the question. However, even young children can enjoy spending time outdoors, and gardening is a great way to teach them about nature. Plus, it's a perfect activity for your own backyard!
To get started, simply create a small garden space with raised beds or containers. Then, let your toddler help you select and plant the seeds or seedlings. Watering the plants and watching them grow will be sure to capture your child's imagination.
If you don't have a backyard, or if the weather isn't cooperating, you can still garden indoors with potted plants. Either way, gardening is a fun and rewarding activity for both you and your toddler. And when the time comes to harvest the fruits (or vegetables) of your labor, your toddler will be proud to have helped out!
9. Fly kites.
Looking for a fun outdoor activity that your toddler will love? Why not try flying a kite? Flying a kite is a great way to get your toddler moving and exploring their surroundings. Plus, it's also a great opportunity to bond with your little one.
Here are a few toddler-approved tips for flying a kite:
Choose a windy day. Flying a kite requires some wind, so make sure to pick a day when there's a good breeze blowing.
Start with a small kite. A larger kite may be too much for your toddler to handle. Stick with a smaller size until they get the hang of it.
Help them launch the kite. Once you've found the perfect spot to fly, help your toddler hold onto the kite string as they launch it into the air. Then, let them take over and fly it on their own!
You could even paint your own kit with a DIY kite kit.
10. Have a beach day.
A day at the beach is a perfect outdoor activity for toddlers. They can build sandcastles, hunt for shells, and splash in the waves. Make sure to pack plenty of sunscreen, hats, swim floaties, and snacks to keep everyone happy. And don't forget the beach toys!
A few shovels, pails, and some plastic animals or dolls will keep toddlers entertained for hours. You can even bring some dump trucks for some awesome sand play. Pack a picnic lunch to enjoy in the sand if you want to make a full day of it.
Outdoor activities are a great way to get toddlers moving and help them burn off some extra energy. Plus, they're a fun way for families to spend time together. So go ahead and plan that beach day – your toddler will thank you for it!
11. Create 'challenges'
This is a made-up game my daughter learned from some kids in our neighborhood. They would do different tasks and then time themselves doing it.
Things like, 'Skip to this tree, then hop five times, crab walk ten steps, then run back to start.' My kids aren't quite as elaborate as that, but they still enjoy it.
Usually, my kids are just hopping five times, then doing a somersault or something. But, it keeps them busy, and toddlers and preschoolers always love trying new things.
12. Water play.
Water play is a great outdoor activity for toddlers. Water play is a perfect way to cool off on a hot summer day and provides an opportunity for active, happy playtime. There are many ways to enjoy water play. For example, you can fill up sensory bins or water tables with toys, balls, and measuring cups.
You can also set up a sprinkler or kiddie pool in the yard with some water balloons. Or, simply head to the beach or local park for fun in the sun. Water play is a great way to encourage movement and exploration while promoting cognitive development and fine motor skills. So dive in and enjoy some happy toddler playtime!
No products found.
13. Play a sport.
Outdoor activities for toddlers don't have to be difficult or time-consuming. One easy and fun activity is practicing a sport. This can be done alone or with a group, and it's a great way to get some fresh air and exercise.
If you have a backyard, setting up a small net or goal is a great way to practice with a ball. If not, throwing a ball or kicking it between cones can be just as fun.
And, if you're feeling creative, you can make up your own games. The important thing is to get moving and have fun. Coconut oil is great for bumps and bruises if they happen to get a bump during outdoor play.
14. "Paint" with water.
Looking for easy and fun outdoor activities for your toddler? Painting with water is a great option! This activity is simple to set up and requires no special materials – just water and a paintbrush.
Plus, it's totally toddler-approved – they'll love painting on the pavement, sidewalk, or a fence. When they're done painting, help them wash their hands thoroughly. Painting with water is a great way to encourage your toddler's creativity and get them outside for fresh air and sunshine.
15. Play 'Hide & Seek'.
My kids don't grasp the full concept of this game, but they love it. Mostly I am counting, and they are 'hiding' out in the open. Or, if they are counting, they peek the whole time while I am hiding.
Regardless, it is still a blast with them. They always giggle like crazy when I come to 'find' them. Plus, they are practicing their counting, which is awesome.
16. Make paper airplanes.
Paper airplanes are a great outdoor activity for toddlers. It's a simple activity that can be done with just a few materials, and it's a great way to get kids interested in engineering and aerodynamics. Plus, it's a lot of fun!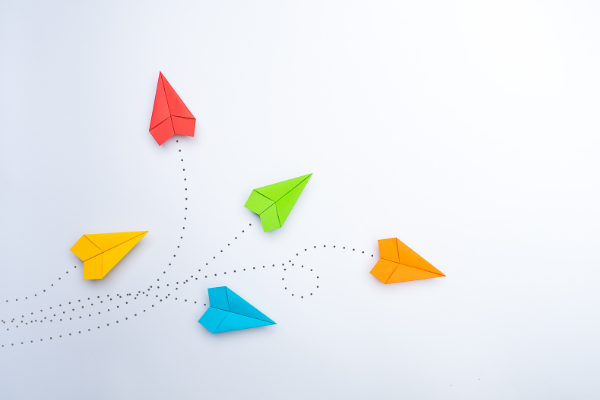 Toddlers are always so amazed when you can make an airplane out of a sheet of paper. They will keep coming back to have you make another and another.
To make a paper airplane, start by folding a piece of paper in half lengthwise. Then, fold the paper in half again, ensuring the creases are sharp. Next, fold the paper in half once more, this time creating a triangular shape. Finally, fold down the top two corners of the triangle to create wings. Once you've made your folds, open up the paper airplane and let it fly!
17. Have a dance party.
If you're looking for fun ideas to keep your toddler entertained, why not try having a dance party? Dancing is a great way to get some exercise, and it's also lots of fun. You can use any music that your toddler enjoys, and you can even make up your own dances.
Just make sure you have plenty of space so everyone can move around freely. If you don't have a lot of space, you can always take the party outdoors. Dancing in the fresh air is a great way to make the most of the good weather. And who knows, you might even start a new trend with all the other parents in your neighborhood.
18. Build something out of cardboard.
Have extra boxes lying around? I know I do! So make something with them: a rocket ship, a race car, or even a castle. You can incorporate this into your make-believe play.
19. Make shadow puppets.
If you're looking for fun ideas to keep your toddler busy, why not try making shadow puppets at night? All you need is a source of light and a few simple props. You can use your hands, household objects, or even store-bought puppets. Simply hold the puppet in front of the light and watch as it comes to life on the wall.
You and your toddler can take turns making different animals or telling stories. Best of all, this activity can be done anywhere there's a light source – no special equipment necessary. So next time your toddler feels restless, try making shadow puppets and watch their imagination come to life.
20. Cook or Bake something together.
Looking for a fun activity to do with your toddler? Why not try cooking or baking together? Not only is it a great way to spend some quality time together, but it's also a great way to teach your busy toddler some essential life skills.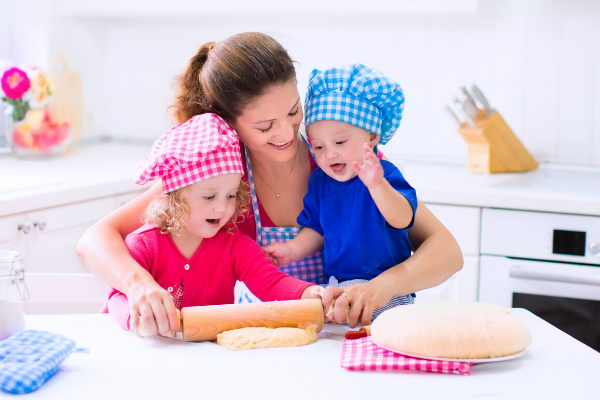 When cooking or baking with toddlers, it's important to keep things simple. Choose recipes that don't require too many steps or ingredients, and make sure you have all the supplies you need on hand before you start. Above all, remember to have fun! Cooking and baking with your toddler should be a fun and enjoyable experience for both of you.
You could do something as easy as having them throw the ingredients into a blender to make a smoothie. Or create a pizza party and let them put their toppings on some store-bought dough. Plus, they love rolling out the dough too.
No products found.
This is one of the activities my toddlers absolutely love! They love to help me make pancakes. We still use this recipe for Baby Led Weaning Pancakes, and they love them! They dump the ingredients in the bowl after I measure, mixing it all up.
During the holidays, I always have them bake with me. They love rolling out the sugar cookie dough and then decorating them.
21. Check out your local library.
Libraries usually have storytime for young kids. Or you can explore all the books. Ask your child about a topic they would like to learn about and then search for books on it.
22. Create a scavenger hunt.
Looking for fun outdoor activities for your toddler? Why not try a scavenger hunt? Scavenger hunts are a great way to get your toddler moving and exploring their surroundings. Plus, they're easy to set up and can be done anywhere.
Simply gather a few small items from around your house or yard to get started. Then, hide the items in different places outdoors. Finally, give your toddler a list of the items they need to find. As they search for the hidden objects, they'll also be getting some fresh air and Vitamin D. And who knows, they might just discover a new passion for nature along the way!
23. Play make-believe.
This is one of the great easy outdoor activities you can do with a toddler. Because this can be anything, you make of it. My kids love to pretend a dragon is chasing them, and they run all over until they are saved on mommy island.
They also love to have tea parties or birthday parties for their stuffed animals.
24. Build a fort.
Building a fort is one of the easiest outdoor activities for little ones. All you need is a few sheets, some string or rope, and some sticks. If you have an old playpen or baby gate, you can use that too. Once you have your materials, let your little one help you put the fort together.
They'll love feeling like they're in charge, and it will be a bonding experience for the two of you. If you don't have a lot of space, you can build your fort inside using furniture to prop up the sheets. Just make sure there are no sharp edges that could hurt your little one.
Building a fort is a great way to spend quality time together while getting fresh air. And when you're done, you can snuggle up inside with some snacks and a good book.
25. Play 'I Spy'
Whether outside on a walk, in the house on a rainy day, or in the car, it's always fun to play 'I Spy.' This is also a great way to practice their colors or shapes.
26. Do flashcards.
They don't even need to be fancy flashcards. I will write letters, numbers, or shapes on pieces of paper and then 'quiz' them. My daughter couldn't get enough the other day. She kept saying, "Do another one, Mommy!"
27. Read books.
One fun outdoor activity that is also educational for toddlers is reading books together. This activity can be done one-on-one or in small groups, making it perfect for parents and caregivers. Toddlers are naturally curious and love to explore, so reading books with them is a great way to encourage their sense of wonder.
Plus, reading helps to develop language skills and promotes early literacy. There are many great ways to make reading fun for toddlers, such as using silly voices, acting out the story, or making up your own endings. Just a few minutes spent reading together can make a big difference in your child's development.
Books are also a great gift idea. Whether you are buying for a baby or toddler or need a great gift for a preschooler, they will always love new books to read.
28. Build an obstacle course.
One great way to encourage kids to get outside and play is to build an obstacle course. This can be done with a variety of simple household items. For example, you can set up a line of cones or hula hoops for them to weave in and out of, create a balance beam using a piece of lumber or a broom, or set up a small tunnel made out of an old cardboard box.
Adding physical obstacles like jumping jacks or sit-ups can also make it more challenging for your busy toddler. The important thing is to make it fun and keep it safe. Look around your house and get creative – with a little imagination, you can easily create an exciting obstacle course that will keep your kids entertained for hours.
FAQs for activities for toddlers
1. What outdoor activities do toddlers or preschoolers enjoy?
Toddlers and preschoolers are constantly learning new skills. Some outdoor activities for toddlers and preschoolers focus on building or stacking, imaginary or pretend play, motor skills, sorting things, exploring, and getting messy.
When the weather is nice, toddlers and preschoolers can enjoy plenty of fun outdoor activities. Many of these activity ideas can be done right in your own backyard. Try setting up an obstacle course using household objects like hula hoops, laundry baskets, and plastic balls. Or, turn a simple game of catch into a fun learning opportunity by calling out colors or numbers as you throw the ball back and forth.
If your child is feeling adventurous, take a nature walk and see how many animals and plants you can spot along the way. There are endless possibilities for outside fun, so get creative and let your child's imagination run wild.
These outdoor activities also get them moving. Toddlers and preschoolers have boundless energy, so outdoor activities that involve movement are sure to be a hit.
2. How do I entertain my 2-year-old without screens?
It can be difficult to keep a toddler entertained, especially if trying to avoid screens. However, toddlers can enjoy plenty of fun activities without staring at a screen. One option is to get them involved in some outdoor activities.
Toddlers generally love being outside, and there are many activity ideas they can do, such as playing with water, chasing bubbles, or picking flowers. With a little creativity, you can easily find ways to keep your busy toddler happy without resorting to screens. So get out there and enjoy some happy toddler playtime in the great outdoors!
3. What is a good outdoor activity for 3-year-olds?
The activities mentioned in the article are perfect for toddlers and preschoolers! These age groups can learn a lot while enjoying outdoor activities. Things like counting leaves, looking for bugs, and exploring can help teach basic concepts. You can even practice using the quiet coyote hand signal to get them to listen to nature. Plus, it's a great way to get some exercise and fresh air!