It can be difficult to keep a toddler busy all day. As a stay-at-home mom, you may be thinking, "what do I do with my toddler all day?" Well, here you go, a list of 28 activities your toddlers will love. A lot of these are outdoor activities your kids will love!
Kids can be surrounded by toys and still claim they have nothing to do. So here are some cheap, if not free, activities to keep your toddlers engaged and stimulated.
It can be hard to find things new and exciting things toddlers want to do. Sometimes they want to watch cartoons all day.
Sometimes, I will just let my kids watch TV to get stuff done or take a break. Or, like today, as I write this, my daughter is lying on the couch next to me watching TV.
Unfortunately, in her first week in preschool, she caught a cold. Now she is whiny and miserable, so mommy lets her watch TV while she tries to rest as much as possible. For educational screen time, check out these Free Learning Resources for kids.
What kinds of outdoor activities do toddlers or preschoolers enjoy?
Toddlers and preschoolers are constantly learning new skills. Some outdoor activities for toddlers and preschoolers focus on building or stacking, imaginary or pretend play, motor skills, sorting things, exploring, and getting messy.
These types of outdoor activities also get them moving, so they will expel any pent-up energy.
Toddler Activities without Screens
Sometimes screens are necessary, but you need to have toddlers or preschoolers be as active as possible for days you don't want to use screens. Below are are great stimulating and fun activities for toddlers that they will love and look forward to doing.
What age are these outdoor activities for?
These outdoor activities in the list below are great for ages 2-5. I have a toddler and a preschooler, so I am always trying to find things my kids will love doing together for both of their ages.
I love coming up with new activities for my toddler to do. I've been going through all these activities with my son now that my daughter is away in preschool for a few hours. But when she comes home, she enjoys all of these activities as well.
I love it when my son finds something he loves doing, especially if it simultaneously teaches him something, which, most of the time, fun time does.
Fun Outdoor Activities to Keep Toddlers Busy
1. Tell stories while acting them out.
Come up with an adventurous story and start acting it out. Toddlers love when you get silly with them. Create funny voices and find props around the house to make it fun.
2. Go for a nature walk.
Go for a walk with your toddler. Point out different flowers and talk to them about the colors or how they grow. Find some bugs. Collect rocks along the way. Get them interested in nature and all things in it.
My son is obsessed with birds or anything flying. So he is always looking in the sky for birds or planes.
Sale
3. Have a picnic.
Whether it is at the park, while on your nature walk, or just in your backyard, any day is a great day for a picnic, your kids may even end up eating things they usually wouldn't just because it's fun and different.
Cut up some sandwiches into cool shapes. Easily cut sandwiches or fruit and veggies into shapes with these awesome shape cutters! Or make some fruit kabobs for a fun way to eat fruit. Have them help prepare the food to bring.
Sandwich Cutters for Kids with Cute Food Picks, 20 pc. Set, Animal Cutouts for Cookies, PBJ Sandwiches, Vegetables, Fruit, and Bento Box Lunches, Mini and Reusable
Sandwich, Cookie, and Snack Cutting Bundle – This 20-piece bento...
Create Interactive, Kid-Friendly Food Shapes – Make exciting and...
We Make Healthy Food More Fun – Our sandwich cutters for kids bento...
4. Paint or Draw
If you don't want them to mess in the house, bring the paints to the backyard. Get some cardboard boxes and flatten them out, then get the washable paints and go to town.
When in the house, I like to stick with crayons and construction paper. I haven't braved the markers yet. LOL
No products found.
5. Bubbles!
Kids love bubbles. Sometimes it can get messy when they try to blow bubbles themselves. But, most of the time, they are happy just chasing them around and watching them blow away.
My kids can't get enough bubbles. So we have to make sure to have it on hand all the time. I love this bubble solution, and you can buy it in bulk, so you never run out.
Gazillion Bubbles 1 Liter Bubble Solution , Green
Tons of bubbles: Gazillion Premium Bubble Solution makes tons of long...
Long lasting bubbles: Gazillion Premium Bubble Solution makes colorful...
Includes 7 in 1 bubble wand: Create tons of bubbles with the multi...
6. Sidewalk Chalk.
My kids love, love, love sidewalk chalk. It keeps them busy for a long time. You can even add another activity to this and draw hopscotch.
My son just figured out how to jump, and he is beyond excited about it. So now we are trying to work on balance and hopping by playing hopscotch. And BONUS, it helps them practice numbers too!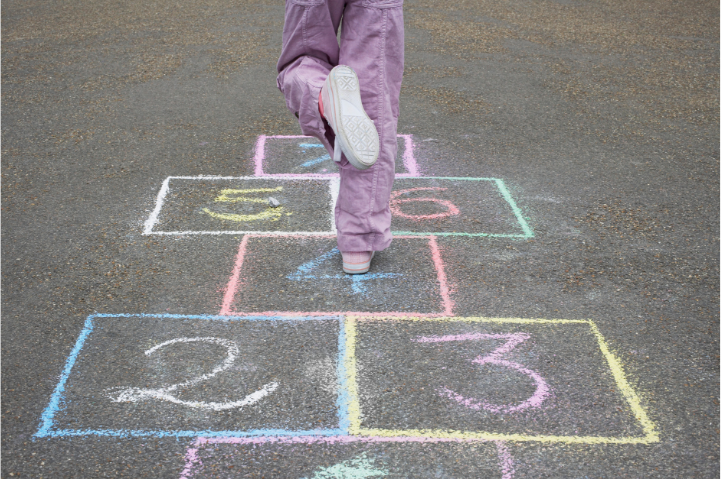 I love sidewalk chalk because it washes away so easily. A fresh canvas for the next day is a cinch; give the driveway a quick rinse.
Sale
7. Go to the park.
Kids always love the park. They can run and climb and play until their heart's content. Or at least until mommy says it's time to go.
My kids love the swings, which means mommy gets a little arm workout pushing them "higher, higher, and higher!"
8. Garden
Have your kids plant something and then watch it grow. Or, while you plant something, have them play in the dirt with a small shovel.
Teach them about how things grow and how to take care of a plant. This is also a great way to get them excited about vegetables.
This year my kids and I planted bell peppers, cherry tomatoes, and herbs. They can't wait till it is time to water them. They ask to go water the plants every day. And they get so excited as they watch the tomatoes turn to red.
Sale
9. Fly kites.
Even if the kite doesn't go very high, my kids love to fly kites. They try so hard to get it high in the air, running as fast as they can. It mostly falls back down shortly after, but my kids are still so happy about it.
Even better, paint your own kit with a DIY kite kit.
10. Have a beach day.
Live near a beach or a lake? Grab some buckets and shovels, and have some fun! Show them how to skip rocks or build some sandcastles.
My kids could dig in the sand all day long. My son especially loves knocking down anything my daughter builds.
11. Create 'challenges'
This is kind of a made-up game my daughter learned from some kids in our neighborhood. They would do different tasks and then time themselves doing it.
Things like, 'Skip to this tree, then hop 5 times, crab walk 10 steps, then run back to start.' My kids aren't quite as elaborate as that, but they still have fun with it.
Usually, my kids are just hopping 5 times, then doing a somersault or something. But, it keeps them busy, and they love trying new things.
12. Water play.
Fill up a kiddie pool, make some water balloons, run through the sprinkler, or anything else with water if you have a water table fill it up and give them all sizes of little cups and spoons to play with.
No products found.
13. Play a sport.
Play any sport. Kick a ball around. Throw a frisbee. My kids love just sitting in a circle and rolling the ball back and forth. Just get a ball and ask them what they want to do with it. If they happen to get bruised during outdoor play, coconut oil is great for bumps and bruises.
14. "Paint" with water.
This is one of my toddlers' favorite activities to do. Fill a large bowl with water, get them some paint brushes (just some cheap ones from the hardware store), and they can 'paint' the driveway, sidewalk, or fence.
It dries fast, and then they want to 'paint' that area again. They stay busy for a long time doing this.
15. Play 'Hide & Seek'.
My kids don't grasp the full concept of this game, but they love it. Mostly I am counting, and they are 'hiding' out in the open. Or if they are counting, they peek the whole time while I am hiding.
Regardless, it is still a blast with them. They are always giggling like crazy when I come to 'find' them. Plus, they are practicing their counting, which is awesome.
Simple Activities for Toddlers and Preschoolers
16. Make paper airplanes.
Toddlers are always so amazed when you can make an airplane out of a sheet of paper. They will keep coming back to have you make another and another.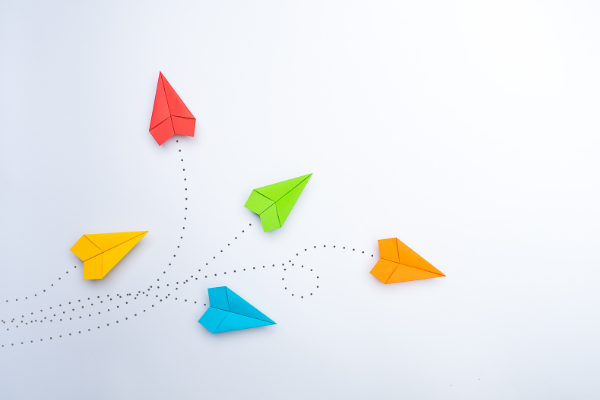 After making a fleet of them, race them all, see which ones can go the furthest.
17. Have a dance party.
Turn on some music and get moving. Be silly and spin around. My kids always like me to pick them up and dance with them. Or we hold hands and dance in circles.
18. Build something out of cardboard.
Have extra boxes lying around? I know I do! So make something with them: a rocket ship, a race car, or even a castle. You can incorporate this into your make-believe play.
19. Make shadow puppets.
Get a flashlight and then show them how your hands can make shadows on the wall. I'm not that great at it, but it still makes my kids laugh, so that's a win.
Stimulating Activities for Toddlers
These activities will get your children thinking and using multiple senses.
20. Cook or Bake something together.
Toddlers love to feel useful and use their hands. So please get in the kitchen and let them create. But, keep it simple, of course.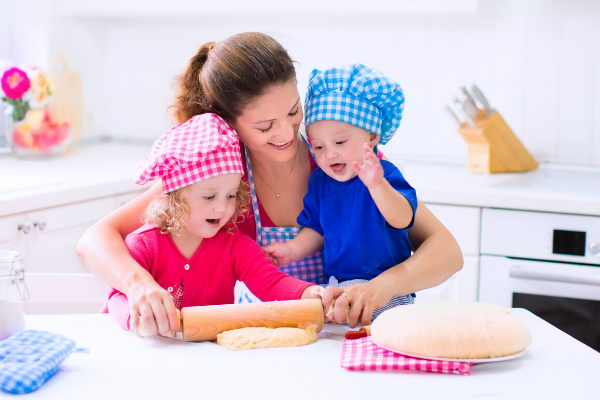 You could do something as easy as having them throw the ingredients into a blender to make a smoothie. Or create a pizza party and let them put their toppings on some store-bought dough. Plus, they love rolling out the dough too.
No products found.
This is one of the activities my toddlers absolutely love! They love to help me make pancakes. We still use this recipe for Baby Led Weaning Pancakes, and they love them! They dump the ingredients in the bowl after I measure, and then they mix it all up.
During the holidays, I always have them bake with me. They love rolling out the sugar cookie dough and then decorating them.
21. Check out your local library.
Libraries usually have storytime for young kids. Or you can explore all the books. Ask your child about a topic they would like to learn about and then search for books on that topic.
22. Create a scavenger hunt.
I love to have my kids look for things around the house that are certain colors or begin with a certain letter.
My oldest is starting to get the idea of using clues to find certain things, making it more fun.
23. Play make-believe.
This is one of the easiest activities you can do with a toddler. Because this can be anything, you make of it. My kids love to pretend a dragon is chasing them, and they run all over until they are saved on mommy island.
They also love to have tea parties or birthday parties for their stuffed animals.
24. Build a fort.
My kids right now are obsessed with forts. They will create a fort out of anything. Stack some things up and throw a blanket over it, and they will play in there for hours.
Sometimes I move all the furniture and make a really sturdy fort. They love it! They end up wanting to eat all their meals there too.
25. Play 'I Spy'
Whether you are outside on a walk, in the house during a rainy day, or the car, it's always fun to play 'I Spy.' This is also a great way for them to practice their colors or shapes.
26. Do flashcards.
They don't even need to be fancy flashcards. I will write down letters, numbers, or shapes on pieces of paper and then 'quiz' them with it. My daughter couldn't get enough the other day. She kept saying, "Do another one, Mommy!"
27. Read books.
Books, books, and more books. My kids love to try to read books and having books read to them. When they recite what they have heard me read to them while pointing at things in the book, I love it when they recite what they have heard me read to them.
Books are also a great gift idea. Whether you are buying a baby, toddler or need a great gift for a preschooler, they will always love new books to read.
28. Have a clean up party.
Are toys everywhere on the floor or in your kid's room? Make it a game while they help clean up. I call our game the 'clean up party.' I get them super excited about cleaning up and sing a song while we clean up.
Make it even more exciting by timing them. For example, ask them how fast they think they can get X, Y, Z into the toy bin.
Need more ideas?! Here are some ideas for young kids' activities indoors or at home, great for rainy days.