Toddlers are always on the go. They're constantly exploring, touching, and playing with their environment. They gather new knowledge and skills that will last them a lifetime as they do this! The best way to help your toddler learn is to provide lots of hands-on playtime in safe environments. One great way to encourage exploration and learning is with a Learning Tower.
Learning Towers are a must for toddlers. Imagine constantly having to look up at things and feeling so small. This is how your toddler tends to feel almost every day. Enter the kitchen helper tower, and suddenly, your little one is right there with you, able to safely stand and feel important.
They are up at the same level as mom and dad, which gives them so much joy. It also gives them the freedom to stand and move around, unlike in their high chair. If you don't have a learning tower yet, get one! Here is a list of the best learning towers and info on how to make your own.
What is a Learning Tower?
Learning towers are a piece of furniture that helps create a safe and stable environment for your toddler to play in. They're often used in kitchens so that toddlers can help with cooking tasks, but you can also use them in other parts of the house too. Learning towers come in different shapes and sizes, so it's essential to choose one that's right for your toddler and your home.
The Learning Tower is an enclosed platform for toddlers and young kids. The tower raises your child to a counter, workspace, or table. It is a Montessori-inspired step stool that gives toddlers more independence while staying safe.
They are sometimes called kitchen helpers because it allows young kids to be in the action of whatever is going on out of their reach. It gets them up high to your level without the danger of falling backward off the stool.
Learning Tower vs Step Stools
| | | |
| --- | --- | --- |
| | | |
| | | |
| | | |
| | | |
| Toddler can climb up on their own safely | | |
| Adjustable Height Options Available | | |
| Can be Used by Newly Walking/Standing Toddler | | |
Why Can't I Just Use a Stool?
Using step stools can be tricky for a toddler who is just learning to walk. They don't quite have their balance wholly figured out yet. Stools might not be strong enough for your child, and they might tip over from the weight. Some people find that their toddlers can quickly get confused about where to put their feet or legs when using step stools. Standing on a stool creates an unstable position, leading to hand injuries while playing in it. And even if you get them one with a backrest, it might not be appropriate for your child's age or size.
On the other hand, Toddler learning towers have a broad base that makes them very stable. They also come with features like guardrails, footrests, and steps to make it easy and safe for your child to get in and out of. While you can use a step stool for your toddler to help you out in the kitchen or help with other tasks, it is not as safe or practical. Not to mention, most of them aren't tall enough.
It can be tricky for them to climb up on the stool without having something to hang onto. Toddlers tend to be pretty shaky, too, so it is best to stay next to them when they are on a step stool in case they lose their balance.
Many times a regular dining chair is used too. This is unsafe, as well. The child can lean too much on the back of the chair, and it could flip over. Chairs are also made to move across a floor quickly, so there is the possibility the chair will slide around if your toddler moves around too much on it.
Why Learning Towers are so great
These enclosed stools are also called Kitchen Helpers. Why? Because they allow your little one to become your favorite new sous chef. When children are young, all they want to do is help with everything, whether it is baking or cooking, or even washing the dishes.
There are always small tasks that I let my kids help out with, but they love to help in the kitchen, even if I give them a bowl to 'mix' in while I do stuff. Keeping my toddlers busy 'helping' makes it so much easier to get the tasks done that I need to do. I finally decided it was time to get a kitchen tower so they could enjoy more fun activities on the kitchen island.
As they get older, they get to do a little more. They are learning while having fun. My kids can't wait until cookies and pie-making during the holidays. They love to roll out the dough and cut out shapes. My little girl is obsessed with sprinkles, so her specialty is decorating cookies.
Benefits of a Learning Tower
Learning Towers make kids feel important. During their early years, they are just trying to get attention and want to be involved in activities. The kitchen tower makes it easy for toddlers to help with everyday kitchen tasks that we, as adults, don't think of as important. However, it means the world to them. It creates such a great bonding experience with your toddler.
Most of them are very lightweight, so you can easily move them to the bathroom to do their nighttime routine with little help. It gets them up higher to the sink to wash their hands and brush their teeth. When toddlers feel in control of doing their routine, the process goes a lot smoother.
They encourage your toddler to be independent and help with their gross motor skills. Everything they do while using their tower is most likely teaching them something. It gives them a safe environment to be curious and find out more about the world around them.
What to look for in a learning tower?
Here are some things to keep in mind when choosing a toddler learning tower:
1. Safety is the most crucial factor. Look for a learning tower with a broad base made from sturdy materials. It should also have guardrails to prevent your child from falling out.
2. Choose a learning tower that's the right height for your toddler. They should be able to reach the top of the tower without difficulty.
3. Consider the size of the learning tower and make sure it will fit in your home. You might want to choose a folding learning tower to store it away when not in use easily, and it doesn't take up too much space.
4. Think about your toddler's activities in the learning tower. Make sure it has the right features for those activities. For example, if your child will be using it to help with cooking, look for a learning tower the same height as your countertops.
There are many different features you can get in a tower. There are basic towers or multifunctional ones. All the learning towers provide a safety net for your toddler to learn. Here are some other features to look for when deciding what you want out of your toddler kitchen helpers.
Is it paintable?
Adjustable height platform
Removable back support bar
Non-slip top step
Multi-functional
Lightweight
Maximum weight capacity
Durable Material
Easy to clean
Easy to Assemble
How Much Space Does it Need?
Recommended age
**Best Toddler Learning Tower for Small Spaces**
1. Naomi Home Kids I'm a Big Helper
Most learning towers require space to be out at all times, but this toddler Learning Tower is foldable and lightweight. These features make it perfect for small spaces. You can easily move and store it whenever you want. The sides have fun cutouts, and the feet allow it to go up flush against the kitchen counter. It is only one platform (no steps) with a cutout that the kids use to step up onto the platform.
2. Folding Kitchen Step Stool Helper Tower
Folding Helper Tower PEAK Kitchen Step Stool
Upper weight limit of 220 lbs.
Made from high quality birch plywood
Adjustable platform
A foldable helper tower is perfect for small spaces. This comes fully assembled and ready to use. This one is a best seller and sells out fast. Get one while they are available! It is very durable and stable. The unique hinge joint design allows it to fold up easily. It is perfect for kids of all ages, starting at 18 months. It will support up to 220 lbs. I love the sleek modern design of this toddler tower.
**Best Learning Towers on a Budget**
3. The Wood City Kitchen Helper Stool
Wood City Kitchen Stool Helper for Kids
Sturdy Structure with Anti-Slip Mat
Grows with Child
Wide Platform
Made with solid wood in pine and uses non-toxic finishes. It safely supports 150 lbs. The four-sided safety rails provide plenty of support for your toddler. At 33″, it elevates your child to counter height so they can help prepare meals. Safety features include a removable gate that you can take off as your child grows and becomes more stable. All four legs have non-slip rubber mat strips, so it stays stable on any floor. Assembly is required.
4. Naomi Home Kids on the Rise Kitchen Step Stool with Handles
Naomi Home Kids Kitchen Step Stool with Handles
Footgrip on Step and Platform
Lightweight and Easy to Move
Supports up to 125 lbs
Sturdy and lightweight, this is the perfect budget-friendly enclosed stool for your toddler. It is easy to put together, so your toddler can even help you with that. It is a fundamental model perfect for getting your toddler to counter height.
The sturdy handles allow your child to pull themselves up. It does not have back support attached, but you can always add something on the back if you are worried or turn it around, so the open side faces the counter.
**Best Classic Learning Towers**
5. Duck Woodworks Shop Montessori Kitchen Tower
Kitchen Tower Montessori Helper Tower
High Quality Birch Plywood
Easy to Assemble
Child friendly finish
Have your toddler explore their independence in style. This Learning Tower has a minimalist design but is very functional and sleek. This tower is very lightweight and of excellent quality. This is the perfect sous chef toddler tower. Your toddler will love helping out in the kitchen while standing safely in their outlook.
6. KidzWerks Kitchen Step Stool
KidzWerks Child Standing Tower
Adjustable Platform
Natural Wood
The Original Child Standing Tower
This Kitchen Tower was made with safety and style in mind. There is an adjustable platform top step that has three adjustable height settings. Screw covers and anti-slip pads are included to prevent falls. It has a removable safety rod so your toddler can easily get in and out of their tower.
Multiple colors are available in this classic kitchen helper. Easy, quick assembly.
**Best Multi-Functional Toddler Towers**
7. Woodgrain Lab Foldable Helper Tower and Table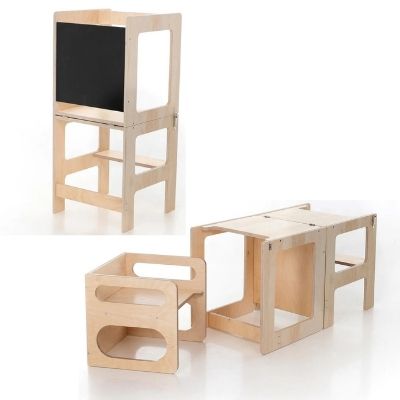 Kitchen Helper Tower and Table
High Quality Baltic Birch Plywood
Turns into table and seat
Chalkboard on back of tower
This Multi-Functional Montessori Tower is a Kitchen Helper enclosed step stool that transforms into a table and chair for an activity area for multiple kids. This tower is easy to assemble and transition. It is well constructed and made of quality materials.
The backside of the tower can be used as a chalkboard. Toddlers can go from helping cook their dinner to eating it all in the same piece of furniture. This tower is perfect for everyday activities.
8. Montessori Learning Toddler Tower, Grow High Chair and Step Stool
Montessori Multi-Function Learning Tower 3 in 1
Toddler Tower converts to Step Stool and High Chair
Rounded over edges for safety
100% natural wood
This Montessori tower is a tremendous multifunctional learning tower. It goes from a kitchen helper to a toddler high chair to a step stool. This Kitchen Tower will accomodate a child from 1 to 12 years old. It is well crafted and has a sturdy construction. It has a support bar across the back to keep your little one safe. Encourage your child to explore with this 3 in 1 Learning Tower.
Are learning towers safe?
Yes, learning towers are safe under proper supervision. They create a safe, enclosed, and stable environment for your toddler to explore and learn. If the top step does not have anti-slip tape, consider getting a non-slip mat to prevent them from slipping.
However, even though they are safe, you should always supervise your child when using their toddler tower. They may still need help climbing up or getting out. It gives them a little freedom and independence, but they still need to be supervised.
Be sure to make a childproof area where they will be helping. They should not have anything hot or sharp within their reach if they are helping with food preparation. Educate your child whenever they help you about particular objects that only mommy can use or talk about things they shouldn't touch and why.
The best age for a learning tower
The recommended age to use a toddler tower is 12 months to 3 years old. Your child should be able to stand on their own and have a good handle on balance. Manufacturers' recommendations are different for each tower. Be sure to check the manufacturer's height and weight maximum and minimum.
Tips for using a toddler learning tower with your kids by age
Always use your toddler tower with adult supervision. Never leave your child unattended when they are using the kitchen helper.
Age 12-18 months
always use the back support bar
help them in and out of the tower
great to use to help your toddler wash hands and brush teeth
have them by you while you prepare things in the kitchen
Age 18-24 months
have them add ingredients to bowls and stir things
help wash fruit and vegetables
clear the table and put dishes in the sink
Age 2 years old and beyond
more hands-on help preparing meals
put together sandwiches and other easy things
help rinse or wash dishes
roll-out cookie dough and cut shapes out
pour their own cereal
With any of these toddler learning towers, older kids can enjoy helping out more and more and gain new skills. Depending on their motor skills, you can get them child-safe utensils to help with chopping and cutting when they are ready.
DIY Learning Tower
Want to try your hand at making your DIY learning tower? You can easily make your own learning tower with a few key pieces. I opted to do this when my children were ready for one. It turned out great, and both of our kids had fun using it. You can even have your toddler help decorate the tower to be an original learning tower.
How do you build a learning tower?
If you want an easy DIY learning tower, start with a step stool as the standing platform and build a tower frame to go on top of it. The Ikea Bekvam Step Stool is perfect, to begin with. Unfortunately, Ikea discontinued it, but you can still find it online. Another similar option is Houchics Multipurpose Step Stool.
Supplies Needed
Wooden Step Stool
1×3-6′
1×2-6′
wood screws
dowel
drill
screwdriver
hooks (optional)
sandpaper (optional)
spray paint (optional)
I mostly followed the tutorial found on Happy Grey Lucky. A couple of changes I made were I added hooks to the backside where the dowel goes, so I could slide the dowel in and out instead of screwing the dowel in.
I used unfinished pine, so I needed to sand mine. Instead of pine, you could also use birch or poplar, but it might be a little more pricey. I also skipped the step of wood glue and filling in the screw holes. So mine came out a little more rustic looking.
Conclusion
Toddler learning towers can help your child feel more confident and independent. Self-confidence is an essential foundation for learning, and these are great for increasing that. The best toddler learning tower is designed based on the Montessori principles of respect for the child's natural abilities and independence. They also provide a safe and sturdy platform for your toddler to explore.
When choosing a learning tower for your toddler, look for one that has adjustable platform heights to grow with your child. Also, consider the materials it is made from. The best learning towers for toddlers are natural wood such as pine or bamboo. They are also free of harmful chemicals and toxins and have a relatively small footprint.
Finally, choose a learning tower that you feel comfortable using in your home. There are many different styles and designs to choose from, so take your time to find the perfect one for your family. Your toddler will love their learning tower for years to come. They are perfect for multiple kids and can be a fantastic gift idea for a baby soon to be a toddler or a preschooler. Start nurturing their love for helping you in the kitchen, and you will have a helper for life.
My two kids love helping out in the kitchen. Every year we make Christmas cookies together. More recently, we started a make your pizza night. Our Kitchen Helper has gotten a lot of use over the years.