Want a free letter to Santa template? These printable templates are perfect for kids of all ages. Some fill in the blank templates for toddlers, so mom or dad can help their child write a fun letter to Santa. For the older kids, there are some blank templates so they can compose their own letters.
How do I write a letter to Santa Claus?
Writing a letter to Santa is a fun and exciting tradition to start with your kids. It helps bring the magic of Christmas to life. These templates allow you to customize the type of letter you send to Santa Claus. You can have your kids write out their complete wish list or have it narrowed down to a couple of items they really want or need.
Kids of all ages will love this Christmas Tradition and look forward to it each year. Print out any of these templates, fill them out, and put them in the mail to be sent to Santa. The address you send it to depends on where you live.
What happens if you write a letter to Santa?
In the US, there are a couple of different options for sending letters to Santa. If you send a letter addressed to Santa Claus or Santa at the North Pole, the letter ends up in the default letters and takes longer to process, and it might not make it to the intended destination.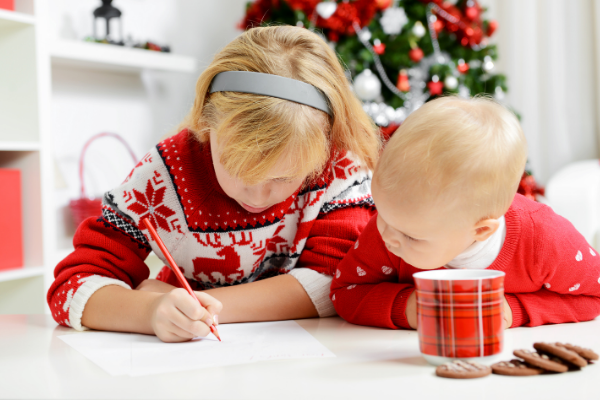 If your kids want to send a letter off for fun and then 'Santa' ends up getting your children what they asked for, you can continue sending it to a nonspecific address. If you want a response back, you need to send it to a specific address and use the instructions below.
How can I get a free letter from Santa in the mail?
To get a letter back from Santa that has been postmarked by the North Pole, here is what you need to do:
Your child writes a letter to Santa, using one of the templates below. Please place it in an envelope addressed to Santa Clause, North Pole.
Write your personalized response to your child's letter and sign it "From Santa."
Place your Santa response in an envelope addressed to the child with the return address as Santa, North Pole. Place the appropriate postage on the envelope so it can be sent back to you.
Put both letters in a larger envelope, making sure to put on the correct postage. Address it to:
NORTH POLE POSTMARK
POSTMASTER
4141 POSTMARK DR
ANCHORAGE AK 99530-9998
Your child will receive the letter you included for a response back and postmarked from the North Pole. Check out these amazing authentic-looking Santa responses you can include!
Send your letters out by December 7th, at least. They need to be received by Anchorage, AK, no later than December 14.
Operation Santa
Another option for your Santa Letters is to send it to Operation Santa. Operation Santa is a program to give back to those in need. It started back in 1912 when Postmaster General Frank Hitchcock allowed local Postmasters and postal employees to respond to letters addressed to Santa.
In the 1940s, Santa mail had grown so much that charitable organizations and corporations started to participate with responses and gifts. Today customers have to option to adopt a letter to give a child some holiday magic.
Some letters receive a handwritten response signed by Santa, while others may receive gifts to help out families in need of some Christmas cheer. It is a wonderful program that has helped countless kids and families over the years.
How to send letters to Santa for Operation Santa:
Have your child write their letter or wish list to Santa and place it in an envelope. Use one of the Free Printable downloads below!
When requesting clothes and shoes, include sizes and colors. Be specific when asking for toys, games, or books.
Write your full name and address in the return address area.
Apply the correct amount of postage to the envelope and address it to:
SANTA CLAUS
123 ELF ROAD
NORTH POLE 88888
For those interested in adopting a letter, go online after December 4th. USPSOperationSanta.com You can read all the submitted letters and choose one to adopt. Each letter is assigned a number so that the individual's privacy is protected.
Adopting a letter is a wonderful Christmas Tradition; your family can start to spread some Holiday Magic to those that may otherwise not be able to get it.
Free Printable Templates for Letter to Santa Around the World
Does Canada Post still do Santa letters?
Yes, Canada Post has an amazing Santa letter-writing program. Volunteer postal elves reply to over 1.5 million letters each year. They will write back in over 35 languages, including braille.
Here's what to do:
Help your child write a letter to Santa. Include some fun facts like their favorite hobbies or memories over the year. The blank or fill in templates below work out perfectly.
Include a self-address envelope to get a response back.
Put the letter and return envelope in another envelope; no stamp is required. Address the outer envelope to:
SANTA CLAUS
NORTH POLE
H0H 0H0
CANADA
Santa's 'Elves' are very busy this time of year, so make sure to send your letters early. They must be in by December 10th for a response.
Where do I mail a letter to Santa in the UK and Australia?
You can send a letter to Father Christmas in the UK. It can take up to 10 days to reply since it is an especially busy time for Father Christmas. Include your full name and address in your letter to get a response.
Get your letters in by December 11th. Address to:
FATHER CHRISTMAS
SANTA'S GROTTO
REINDEERLAND 
XM4 5HQ
If you are in Australia, Mr. Claus himself will send you a reply. He loves hearing about kids' wish lists and any stories they have from the year. He only responds to addresses in Australia.
Get your letter in by November 26th, so you get a response back. Attach a 65c Christmas card-only stamp to the front of the envelope and address to:
SANTA
NORTH POLE, 9999
Do letters to Santa need a stamp?
Letters sent to Santa in Canada do not require postage. All of the other letters require the correct postage to make it to the correct address. Don't forget to include the postage on the reply envelope for a Santa reply in the US.
Free Printable Letter To Santa Templates
Blank Santa Letter Template
>>Click on the Template Image to Download<<
Letter to Santa Coloring Page
>>Click on the Template Image to Download<<
Dear Santa Letter Template
>>Click on the Template Image to Download<<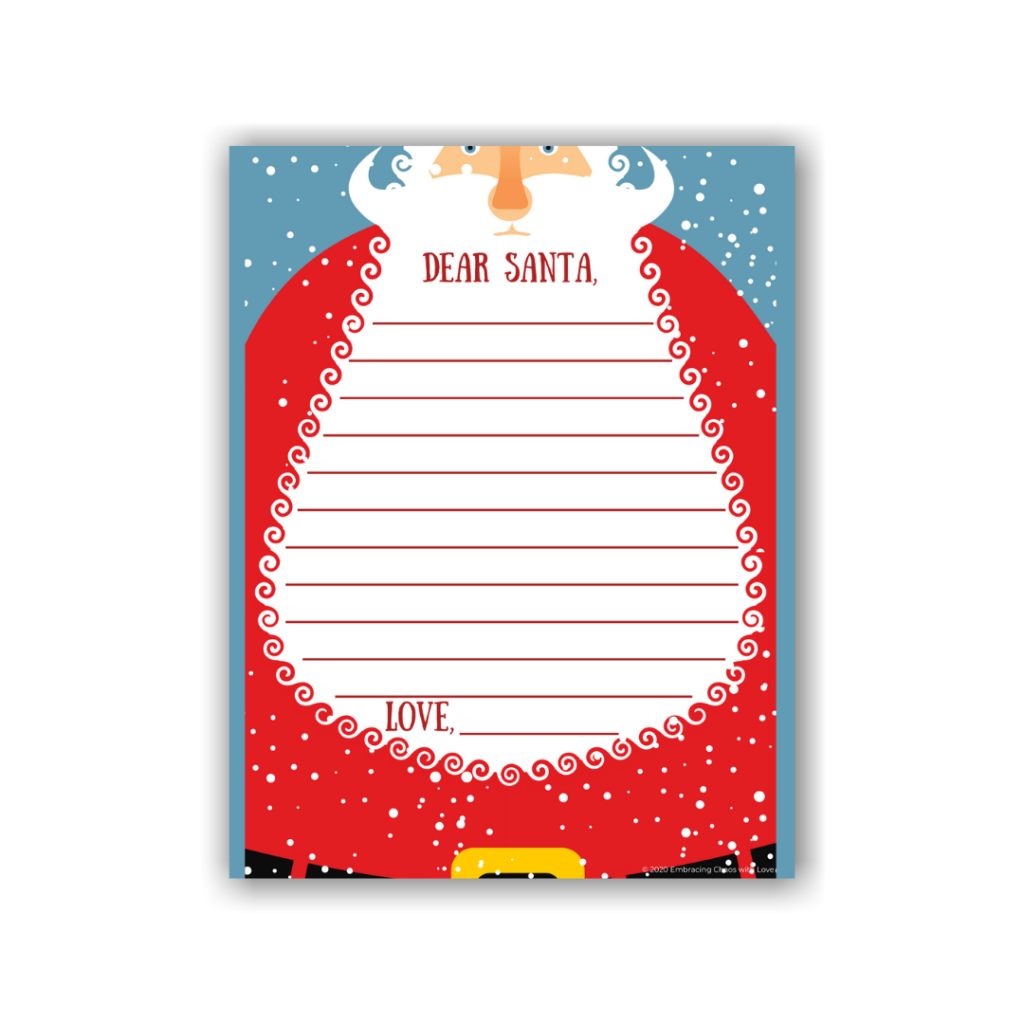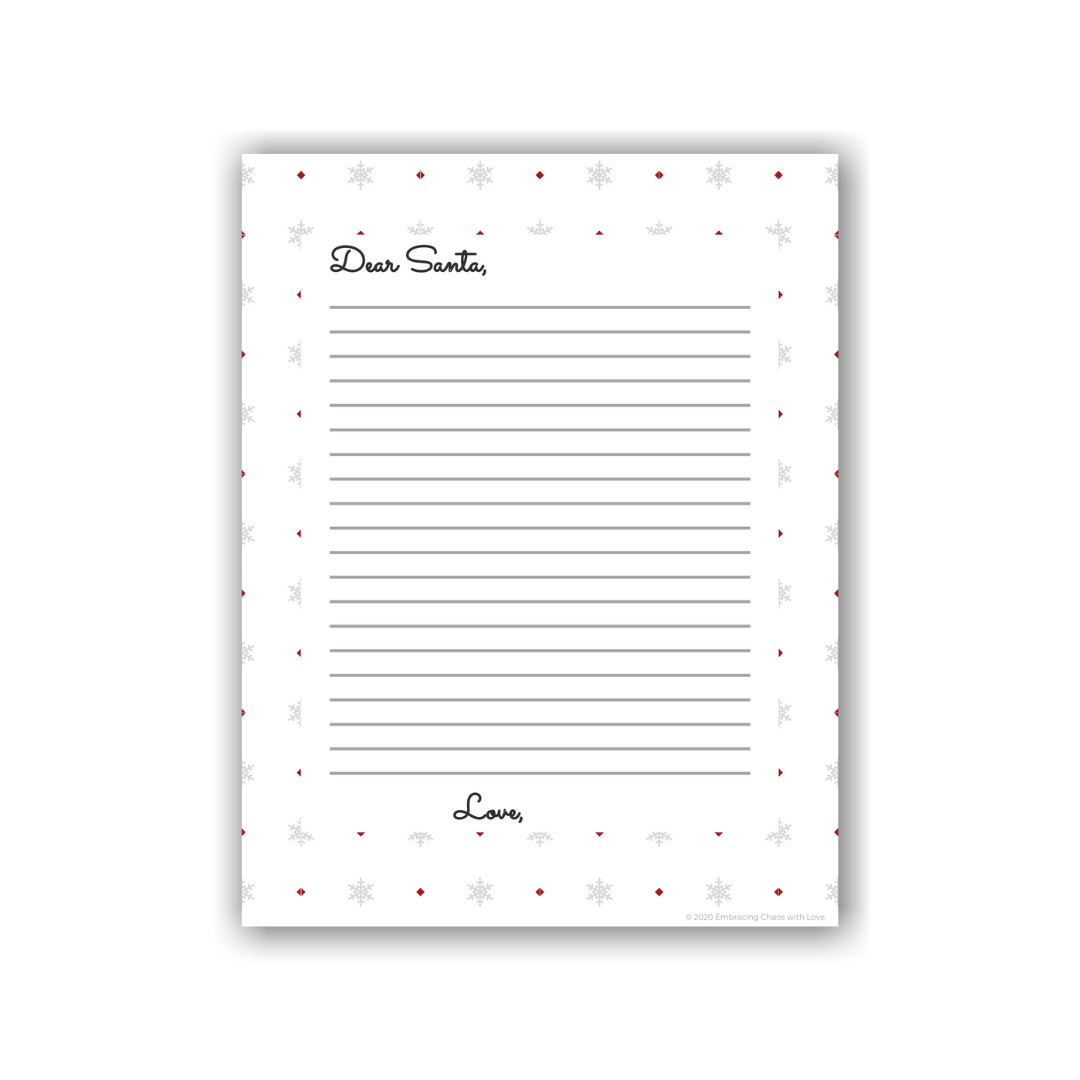 Fill In Letter to Santa Templates
>>Click on the Template Image to Download<<
Response Letters from Santa Made for You
Get the perfect letter back from Santa with these personalized options. You can send them back to your child that sent a letter using the options above. Or this can be the perfect letter to include in your Christmas Eve box for your child. What better way to start the holiday magic than a special letter from Santa himself.
Is this Baby's First Christmas? Get a personalized letter from Santa or Father Christmas. You get to choose all the little details to make it truly one of a kind. This would be an amazing keepsake for a First Christmas.
This rustic vintage scroll letter from Santa or Father Christmas is so perfect. You can choose a charm to include and personalize it for your child. I love the authentic charm it has. Looks like something direct from the North Pole.
This Personalised Letter from Santa or Father Christmas comes with a beautiful official gold sticker. You give some details about your child's hobbies and likes, and it is personalized to their details.
This letter from Santa is a little different. It is a handwritten Calligraphy, Santa Letter. You write the letter you want, so it is unique to your child or family. It is then copied by hand in beautiful calligraphy with many special touches that make it truly magical. It comes in an envelope that has been sealed with a wax seal from the North Pole. It is a special letter that turned into a magical experience.
Writing a letter to Santa is a fun experience for any child. Getting a letter back makes the experience of Christmas magical. Give a little more magic this holiday season with the great ideas mentioned above. Send off a letter to Santa or Father Christmas by the dates listed to get a response back. If you need to include a response, check out the amazing options above.
Don't forget to check out the letters with Operation Santa so you can give another child or family some holiday cheer. Need some ideas for Christmas gifts for young kids? See this gift guide for toddlers and preschoolers.
Wishing you a magical holiday season!