Summer is upon us, and if you haven't already figured it out, babywearing is a great way to enjoy the outdoors while keeping your baby calm, not to mention hands-free! Here are some of the best baby wraps for summer that will keep you and your baby close but also help you stay cool.
Best Baby Wraps for Summer
What is a baby wrap?
A baby wrap is a length of woven fabric that can be tied in different ways creating a pouch to carry your baby comfortably. Most wraps can accommodate a child from newborn through toddler, depending on how it is tied.
A wrap creates a comfy place for your baby to snuggle on your chest and keeping them in an ergonomic position. They are easy to adjust to any body type since you wrap them around your body as you tie them.
Wraps are very versatile since you decide how to wrap them around your body and your little one. It allows you to distribute the baby's weight evenly, so it is easy on your back.
How to use a baby wrap safely?
The best way to ensure you are using the wrap safely and correctly is to read the instructions on the particular wrap you have—practice wrapping and tying it without a baby at first until you get used to wrapping it.
Some things to remember when using a wrap:
Is a wrap or carrier better?
Wraps are better for newborns and small babies because they mold them to your body and give them the skin to skin they love. Wraps give babies a very snug pouch. They can be harder to use than carriers. A learning curve comes with a wrap when you are learning how to use it and safely wrap it for your baby.
Carriers are way faster to put on. They are a soft structured pouch for babies. Most of them come with an option for an infant insert so you can use them from birth, but carriers I find are great for bigger babies. Baby Carriers have padded straps and a waistband that gives support and keeps some weight off your back.
Benefits of Babywearing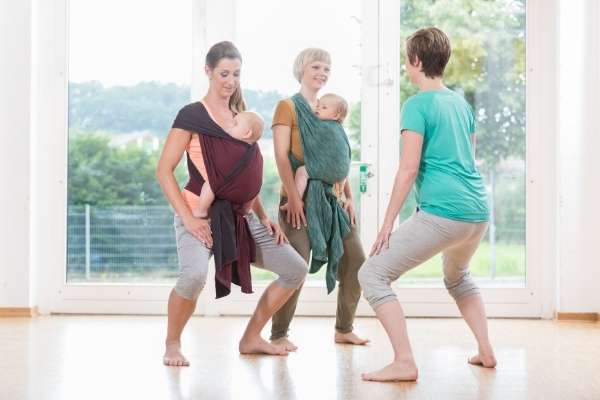 Things to consider when choosing a baby carrier for hot and humid weather
Versatility- is it all season? Can it be used year-round
Material- is it breathable and lightweight
Positions- can a baby be worn in different positions with it
Easy to use- can it be taken off and put on easily
Pockets- is there a storage pocket for small essentials
UV protection- does it provide any UV blocking or reflecting
Adjustable- is it easily adjustable for multiple users
Ergonomic Design- does it keep baby's hips in a position that promotes good spine and hip development
Easy to Clean- can it be machine washed and/or dried
Can you breastfeed in it
How to Choose the Best Baby Wrap
Check out the full list of our top picks for baby wraps and baby carriers perfect for summer. With each baby wrap and carrier review, we talk about the pros and cons of each so you can choose the best one for your needs.
Best Woven Baby Wraps for Summer
1. Konny Baby Carrier Summer, Ultra-Lightweight Baby Wrap Sling
The Konny Baby Carrier is made with high-quality fabric with sun protection- a UV-Cut of 85%. The fabric is cool and breathable and is moisture-wicking for those hot summer days. You can comfortably carry your baby from birth to 45lbs.
The Konny Wrap wears like a T-shirt, so it is sized for the individual. It also comes with an outer sash that helps enhance stability for your baby in the pouch. There are also two horizontal sashes used to increase safety. A small pocket in the middle is perfect for small useful items.
What we like
What we don't
Not a lot of head support for baby
Summary
The Konny Wrap Carrier is great for small babies. Once they get a little heavier, it puts more strain on mom's back. The lightweight mesh is perfect for summer; it wicks away moisture and allows air to flow through.
The wrap is super easy to put on; you just slip it on like a t-shirt. However, you need to make sure you order the correct size because there is not a lot of stretch to them—overall, a good wrap for newborns in the summertime.
2. Hip Baby Wrap Ring Sling
The Hip Baby Wrap Ring Sling is 100% cotton, making it super lightweight and breathable. It can easily adjust to be used for front carry or hip carry when they get older. It can be used for babies 8-35lbs.
The Ring Sling is easy to use and comfortably, usually calming fussy babies within minutes. The wrap's ergonomic design helps distribute your baby's weight across your whole body. Machine washable and dryer safe.
What we like
What we don't
Summary
This Ring Sling is a great wrap to use around the house when you want to get stuff done, but bond with your baby as well. It holds your baby securely and ergonomically. It does not have UV protection, but it is very breathable and lightweight, so your baby won't get overheated while in it on hot days.
3. SweetBee Lightweight Baby Wrap
The SweetBee baby wrap is perfect for parents on the go. You can tie it 2 different ways, for a newborn or a baby with their legs out. It can be used for babies 8 to 30 lbs. The long length of the wrap ensures it will fit parents of all sizes.
Carrying your baby close to your chest can help calm the fussiest baby. This woven baby wrap makes that easy. It helps you bond with your baby while keeping your hands free and your baby's weight off your back.
What we like
What we don't
Summary
The My Honey Wrap is incredibly soft and breathable. SweetBee has a No-Risk return back option if you don't like it, no question asked. A step-by-step instruction manual and video are included, so you will be able to tie this wrap like a pro in no time. The perfect wrap to bond with your baby even during hot days.
4. Baby K'tan Breeze Baby Wrap Carrier
The Baby K'tan baby wrap is a womb-like carrier that allows you to hold the baby close and breastfeed on the go. There are no ties or wrapping required; just slip it over your head. The half jersey and half mesh fabric allow air circulation and keep the baby cool even in the summer.
You can use this wrap in multiple positions depending on the age of your baby. It can be used for babies 8 to 35 lbs. The sling has a double shoulder design, so it evenly distributes the weight across your back and shoulders. It comes in 2 different colors and sizes, XXS to XL.
What we like
What we don't
Summary
This Baby K'tan Carrier is half jersey knit and half mesh. You can adjust the mesh to be placed in front or the back of the holder for added airflow. This makes it easy to transition from the cool indoors to hot outdoor weather while carrying your baby. The ready-to-wear style slips on like a t-shirt, so there is no complicated wrapping required.
5. Ergobaby Aura Baby Carrier
The Ergobaby Aura Wrap is made with lightweight, very breathable fabric. It may take some getting used to wrapping it correctly, but this wrap is great for babywearing in the summer once you get the hang of it.
This woven baby wrap has a pocket that doubles as a built-in carrying pouch. This can be used for babies 7 to 25 lbs. It comes in a variety of colors and is machine washable.
What we like
What we don't
Summary
The Aura Baby Carrier by Ergobaby is a great wrap for beginner wrappers. The fabric is extremely soft and breathable yet durable. It can fit most body types and can be used for babies up to 25 lbs. It has a small pocket that doubles as its own carrying pouch. The fabric is made of eucalyptus and acacia.
6. Nalakai Ring Sling Baby Carrier
The Nalakai Ring Sling allows you to carry your baby close to your heart while going about your daily tasks. The super-soft bamboo linen is strong but lightweight and breathable. The fabric is also UV reflective. The sling is easily adjustable and gives your baby just the right support.
The wrap is long enough to fit any body type. The airy material makes this a great wrap to use outdoors. There are a bunch of different colors to choose from. The Ring Sling is great for newborns to toddlers. Newborns find comfort in the womb-like pouch, and toddlers can comfortably sit on your hip without putting all the weight on your back.
What we like
What we don't
Summary
The Nalakai Baby Carrier is a great option for babywearing in hot summer weather. You can feel comfortable taking your baby outside with this lightweight wrap since the fabric is UV reflective. The long tails make it perfect for any body type and size. Easily wear your newborn during those first few weeks home with your baby when all they want is to be held.
7. Mebien Baby Wrap Carrier
The Mebien Baby Wrap is made with 100% Turkish cotton muslin. The Muslin fabric is super breathable in the summer, keeping the baby cool with the increased airflow. This wrap can be used for babies 8-35 lbs.
This ring sling is easy to use. The fabric fully supports your baby while staying soft and breathable to avoid overheating. The fabric is so soft it can double as a cozy, lightweight blanket or nursing cover.
What we like
What we don't
Summary
The Mebein Ring Sling baby wrap is a quality sling made of soft, lightweight muslin. It is great for your baby's sensitive skin and is cool enough to use in the summertime. The sling is easy to use, and you can secure your baby close to your while completing other things. It comes in a variety of colors and has a convenient pocket for some small essentials.
Best Baby Carriers For Hot Weather
Baby Carriers are a little more versatile than wraps. You don't have to worry about wrapping it around you, yet it is still very adjustable. These soft-structured carriers are also better for infants and toddlers because they give more support for the extra weight. Check out these top picks for baby carriers perfect for the summer.
1. BabyBjorn New Baby Carrier One Air Mesh
The Baby Bjorn Baby Carrier is airy, lightweight, and soft. The mesh fabric makes sure there is plenty of airflow for those hot days. This carrier can be used from birth to 36 months. It has 4 different carrying positions, including newborn position, front position facing in, front position facing out, and backpack carrying.
The seat width is adjustable to ensure your child's hips are always in an ergonomically correct position. The head support is adjustable. This carrier is also machine washable but needs to be line dried.
What we like
What we don't
Summary
The Bjorn One carrier has less fabric which makes it breezy and cool in hot weather. The mesh fabric keeps you cool, and it dries easily. This is a slim carrier that is easy to use and comfortable for your baby. The seat is adjustable and goes wider as your baby grows, so it is always in the best ergonomic position.
2. Ergobaby Omni 360 All Position Baby Carrier
The Omni 360 carrier adjusts for your growing baby. It fits babies 7-45 lbs. This carrier can be used in all positions, including inward, forward, back, and hip. The extra lumbar support on the waist belt makes sure you are comfortable when using it for long periods.
There is an included storage pouch that is detachable. There is a tuck-away baby hood with UPF 50+ perfect for breastfeeding or extra sun and wind protection. The Ergobaby Omni 360 is designed to fit all parents; you can easily adjust for multiple wearers. The mesh fabric is soft and durable and allows for cool airflow.
3. Beco Gemini Baby Carrier Cool Mesh
The Beco Carrier is a 5 in 1 carrier. It is innovative and designed to fit your child from newborn to toddler. It can fit your child from 7 to 35 lbs. The padded adjustable straps give you comfort and support for you and your child. There is a large pocket on the waist belt for some small essentials so you can stay hands-free while babywearing.
The seat on the Beco Gemini adjusts with a snap from wide to narrow to support your baby and ensures their hips are in the correct position. The 3D mesh is extremely breathable and sunblocking, so even in hot weather, you and your baby will stay cool.
What we like
What we don't
Summary
The Beco Baby Carrier is cooler than a lot of other carriers. The whole front is made of mesh, making it very breathable and cool. There are 5 different positions: newborn facing in with narrow seat, infant facing in with wide seat, infant front-facing, hip hold, and backpack hold. This carrier is also great to breastfeed in, although it may take some practice. The pocket on the waist belt is small but perfect for essentials like your phone and keys.
4. Baby Tula Coast Explore Mesh Baby Carrier
The Baby Tula Carrier has a large mesh panel in the front that provides a ton of ventilation, keeping you and your baby cool on those hot summer days. There are multiple positions available, including facing in, facing out, and backpack carries. This carrier can be used from 7 to 45 lbs with no infant insert.
The padded shoulder straps are adjustable, so they are at the optimum area for comfort for each wearer. There is an adjustable neck support pillow for babies to provide head and neck support for babies. It also has a removable mesh hood for extra sun protection or nursing privacy.
What we like
What we don't
Summary
The Tula Explore is a simple but effective summer carrier. The front mesh panel lets in lots of air, so you and your baby stay cool when hot outside. It is adjustable for multiple wearers and distributes weight evenly, so you avoid any back pain. It is machine washable and easy to clean.
Baby Wraps for the Water
Babywear in the pool, lake, or at the beach with these lightweight wraps. These wraps allow you to enjoy the water with your baby. They are all quick to dry and durable.
Babywearing in Summer-FAQ
1. Do baby slings fit plus-size moms?
Baby wraps and slings are perfect for plus-size moms because they are extremely adjustable. The extra-long tails on most of the wraps allow it to mold and wrap around any body type.
2. Do infant carriers come with sun protectors for the child's head?
Some carriers come with a hood that can be folded away or put over the baby's head for extra protection. It can also double as a cover for some nursing privacy. Check with the carrier you are interested in; they don't all have a hood.
3. What should a baby wear in a carrier in the summer?
In the summer, your baby should wear lightweight and comfortable clothes. A cotton onesie or a shirt and cotton shorts would be good options. The fabric should be breathable and moisture-wicking if possible. Make sure you don't layer the clothing as they will get pretty warm when in a carrier next to your body. Bring a hat to protect your baby's head from the sun and use sunscreen.
4. How do I keep my Baby from overheating in a carrier?
Try to stay out of the sun as much as possible, and don't babywear in extreme heat for extended periods of time. Here are some tips for carrying in the sun: bring a sun hat with UV protection for baby, use an umbrella for shade when in the sun, use sunscreen for you and your baby, the tails of slings or wraps can be used to cover baby's legs, dress baby in less clothing, increase fluids, and wear soft, breathable fabrics.
5. What is the best fabric for a baby wrap?
The best fabric for a baby wrap is light and breathable fabric like cotton or mesh. The cotton fabric is breathable but also wicks away moisture to keep your baby cool. Bamboo is another great fabric since it is naturally UV reflective. Mesh creates airflow that helps keep mom and baby cool in hot weather.
6. Which baby wrap is best for summer?
The best baby wrap overall for summer is the Nalakai Ring Sling. It is a bamboo material that is naturally UV reflective. The fabric is also very lightweight and breathable, perfect for hot weather. The extra tail left after wrapping can be used as more cover for your baby or as a cover for nursing privacy.
7. What is the best baby carrier for hot weather?
The best baby carrier overall for summer is the Ergobaby Omni 360 Cool Air Mesh. This carrier can be used in all positions and accommodates a newborn to a toddler. The mesh allows for lots of airflows and keeps you and your baby cool. There is a small detachable pocket for small essentials, and a tuck-away hood has UV protection to protect your baby from harmful rays.
8. Is Boba wrap too hot for summer?
The Boba Baby Wrap is too hot for the summer. The fabric is very thick, and wrapping it around it makes it even thicker. While this wrap is great for indoors or the winter, it is not great for the summer. I love the Boba Baby wrap; however, I prefer a more breathable lightweight fabric for the summer.
Conclusion
If you plan on babywearing in the summer, you want to get a wrap or carrier that will stay cool in hot weather. Woven wraps made of mesh, cotton, or bamboo are great because they are breathable and lightweight. Carriers that are less bulky and have mesh panels are also great for summer weather. A bonus is if they have some UV protection.