A Christmas Eve box for toddlers is a perfect tradition to start with your family. The tradition of a Christmas Eve box will excite your kids for years to come. The fun of Christmas is the anticipation and excitement of opening presents. Start Christmas a day early with a gift box given on Christmas Eve.
What is the point of a Christmas Eve box?
Christmas Eve boxes are a fun Christmas tradition where kids get a box to open on Christmas Eve. The box contains fun holiday surprises and includes activities to use that evening. If you are trying to come up with a fun holiday tradition to start on Christmas Eve, look no further!
What are some good Christmas Eve traditions?
Opening a gift on Christmas Eve is a beautiful tradition to start. The tradition of Christmas Eve boxes started in my house when it was just my husband and me. We would open one small Christmas Eve gift. When we started a family, we wanted it to continue and become a little more special each year as our kids grow up.
The first year with our daughter, we did a Christmas Eve box for a baby. It was a Christmas Eve box with pajamas and a Christmas book. Some other Christmas Eve box ideas for babies would be their favorite snack, a small toy, some bubble bath, or other small things they like.
Once we had our son, we started including matching pajamas in everyone's Xmas eve box. It was now two Christmas traditions in one. Every year we get a new pair of matching pajamas on Christmas Eve to wear. This way, the entire family is in their matching pj's for opening gifts on Christmas morning.
Another fun Christmas Eve tradition we started is Daddy reads The Night Before Christmas to the kids once we all have our jammies on. This book was included in our daughter's first Christmas Eve box.
What do you put in a toddler Christmas Eve box?
There are many different types of Christmas Eve box ideas for toddlers. You can make a practical one with winter items they need, like socks, slippers, or mittens with a knit hat. You can do an activity box. Coloring books, new crayons, books, or a craft. You can do a cozy theme box with pajamas, slippers, and the makings of hot cocoa.
But first, you must decide what box you want to use for your Christmas Eve box tradition. This is the container that the gift or gifts will come in each year. It can be a repeatedly used box or a nice fancy gift box you find each year. It doesn't have to be too extravagant but should stand out from all other gifts if you already have them under the Christmas tree.
You can get a personalized Christmas Eve box or a unique Christmas eve box. There are quite a few ideas for a personalized box. There are wooden crates, boxes, chests, gift boxes, stacked boxes, or even a sack. It can be something directly from the North Pole or mom and dad.
Christmas eve boxes for toddlers'
These are some of my favorites from Etsy:
Christmas Eve Box Wooden Crate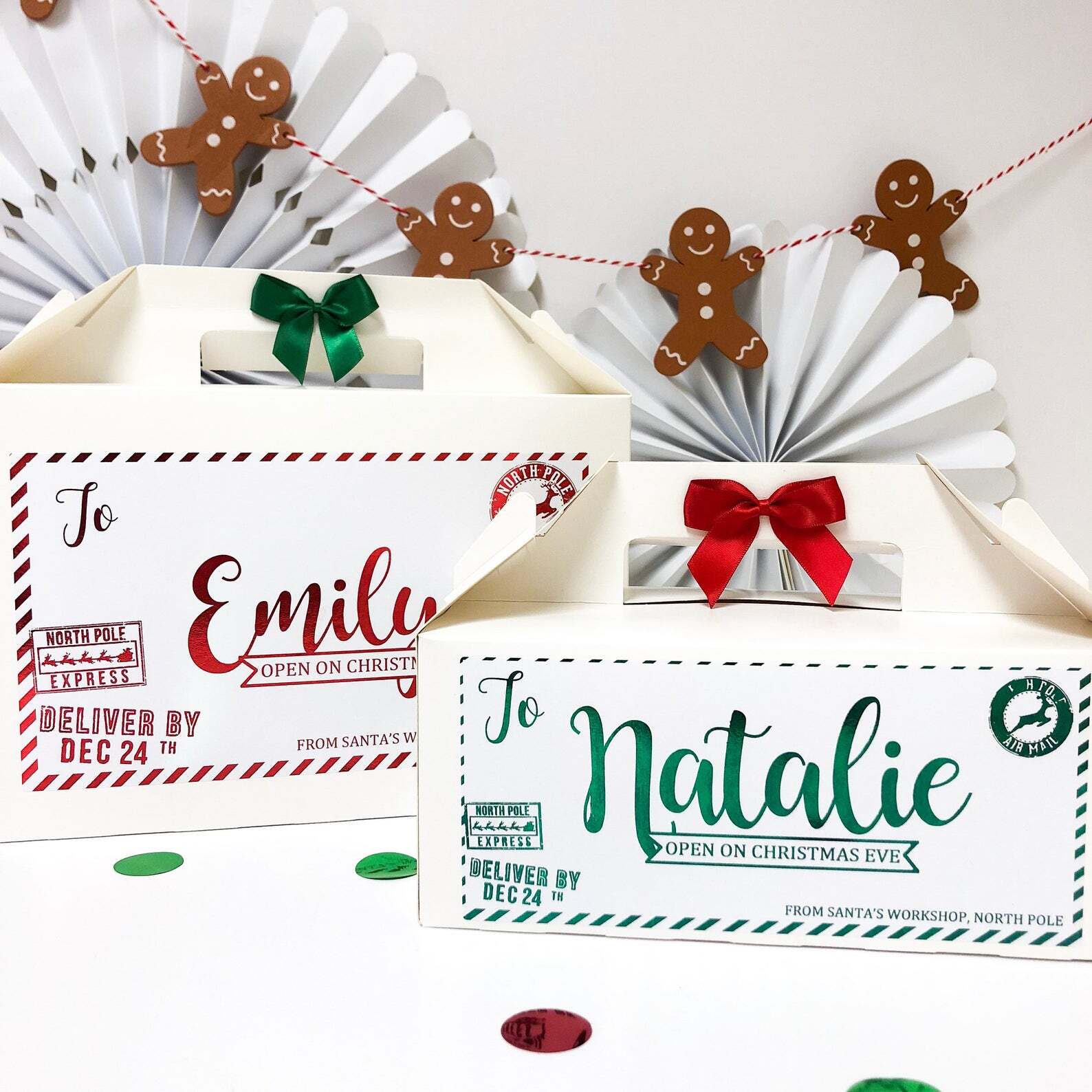 Personalized Christmas Eve Sack
Christmas box ideas for toddlers
Now that you have ideas for what to use for the actual Christmas box, here are some great ideas for Christmas Eve box fillers. It can be as many or as few items as you want. Mix and match each year, so you have a different box theme each year.
Pajamas
Slippers
Socks
Christmas Coloring Book
Christmas Book
Christmas Movie
Letter from Santa
Christmas Toys
Stuffed Animal
Christmas Craft
Ornament
Puzzle
Mittens and Hat
Santa Hat
Robe
Bath Bombs
Hot Chocolate
Creating the Perfect Christmas Eve Box for Kids
Step 1: Find the Perfect Box. See the examples above or check Christmas Eve Boxes on Etsy for many great ideas.
Step 2: Decide the theme or type of gifts you want to include in your box. Also, decide whether you want to include a special family tradition gift each year, like matching pajamas.
Step 3: Fill the box and place it under the tree to be opened on Christmas Eve.
Step 4: Open and Enjoy! Don't forget to take pictures as your toddler excitedly opens their special box.
Great Christmas Eve Gifts for Toddlers
1. Pajamas
Matching Christmas pajamas are a favorite to include in the Christmas Eve boxes in our house. I love the tradition of everyone having matching pajamas for our Christmas evening activities and for opening presents the next morning.
Any cozy pajamas are great for toddlers. My kids love getting new soft pajamas, especially if it is a character of some sort.
2. Slippers
3. Socks
4. Christmas Coloring Book or Activity Book
5. Christmas Book
I love including a new Christmas book in the Christmas Eve Boxes. Many of the classic kid's books have a Christmas edition. The kids love seeing their favorite books with a Christmas theme.
Or you can go with the classic Christmas books like:
Some of my kids' favorite books are
All of these books have Christmas editions!
6. Christmas Movie
There are so many great Christmas movies! Watch a different one each year.
7. Letter from Santa
Get an official letter from Santa Claus. You can even include a Nice List certificate. Find out how you can get a letter back from Santa direct from the North Pole.
8. Christmas Toys
9. Stuffed Animal
10. Christmas Craft
11. Ornament
Get a special Christmas ornament of a character or thing that your toddler loves. My daughter loves Minnie and Princesses, so we always get her a different Minnie Ornament or Disney ornament, usually with the year. My son loves Star Wars and Super Hero stuff, so we get some type of Marvel or Star Wars or Disney ornament for him.
12. Puzzle
13. Mittens and Hat
Winters can be cold so, a new hat and mittens are perfect! Or maybe you are visiting the snow for the holidays.
14. Santa Hat or Christmas Headband
15. Robe
16. Bath Bombs
If you are looking for a new Christmas tradition to start with your little one this year, these Xmas eve box ideas for toddlers are perfect. The kids will love this tradition for years to come.
The gifts above can be adjusted as the kids get older. For example, I can't wait to include an actual jigsaw puzzle in my kids' Christmas box or some delicious hot chocolate. The puzzle could then be an activity for the whole family to start on Christmas Eve and continue till the New Year!