With a new baby on the way, mom and baby are always showered with gifts. But, what about gifts for expectant dads. Dads deserve to be spoiled too, and what better way to spoil them than with a thoughtful present.
There are tons of great gifts out there that will be perfect for a soon-to-be dad. From items they can use to help them prepare for the baby to presents that mom-to-be will enjoy too, there are many good options. Check out this list of some of the best gifts for expectant fathers!
What to Buy for an Expecting Father
Gifts for an expecting father don't necessarily need to be something for the baby. Get dad to be an awesome gift they can later use with the baby that will be totally them. Looking for something more meaningful, get them something personalized. Or you can go for a tech gift or practical gift that will help them in everyday life as a dad.
Gifts to Help Prepare an Expecting Dad
1. Tactical Baby Carrier for Dad
Dad-to-be will love this lightweight simplistic design baby carrier. The TBG Men's baby carrier is made of 600D tactical polyester. It is easy to adjust and can fit babies from 8 to 33 pounds. It is made for safety and comfort while having a military tactical look and function.
2. Tactical Dad Diaper Bag
No products found.
The HSD Diaper Bag has seven exterior pockets with plenty of room for everything you need. There are large compartments for clothes and a dedicated pocket for baby wipes. The bottle pockets are fully enclosed.
This bag has enough room to use for 2 kids. There is also a changing mat that is large enough for a toddler. It comes with stroller straps to conveniently strap it onto the stroller when on the go.
3. Guide Book for New Dads
Guide books full of practical advice for new dads. Dad-to-be can read about the first-hand experience from other new dads and all he can expect for the first year. Meaningful books to read to their unborn baby are also great gifts.
4. Smartphone Stroller Mount
This secure and reliable phone mount will hold almost any smartphone. It will mount to any tubular handlebar from 0.5″ to 1.7″ in diameter. This is perfect for the new dad on the go. He can attach it to the stroller or anything else he wants.
5. New Dad Essentials Box
A Bump Box for a New Dad. All the essentials for a soon-to-be dad. This box comes with "Be Prepared-A Practical Handbook for New Dads," some #1 Dad socks, Bourbon Soap by Duke Cannon, A keychain, and an adorable I love daddy onesie.
6. Jogging Stroller
The Graco FastAction Fold Jogging Stroller has all the convenience of a traditional stroller with the function of an all-terrain jogging stroller. This stroller folds in one second with one hand. It also fits all Graco infant seats. Great stroller for all jogging enthusiasts.
7. Kangaroo Shirt for Dad
This Kangaroo Shirt is perfect for New Dads. There is a flap that allows the user to engage in skin-to-skin bonding with their newborn easily. Help dad starts the bonding process with their new baby with this comfortable shirt.
8. Stroller Organizer
Babies need a lot of stuff. Help dads stay organized with these stroller organizers. Perfect for keeping all the essentials within reach during a walk with their new baby.
9. Car Organizer
This trunk organizer is perfect for keeping all the baby essentials. Extra clothes, diapers, and wipes can easily fit in these 3 compartments with plenty of room to spare. It can also fit extra clothes for dads for those frequent newborn spit-ups.
Meaningful Gifts for an Expecting Father
10. New Dad Key Chain
11. Personalized Baseball Hat
12. Personalized Tumbler
13. New Dad Coffee Mug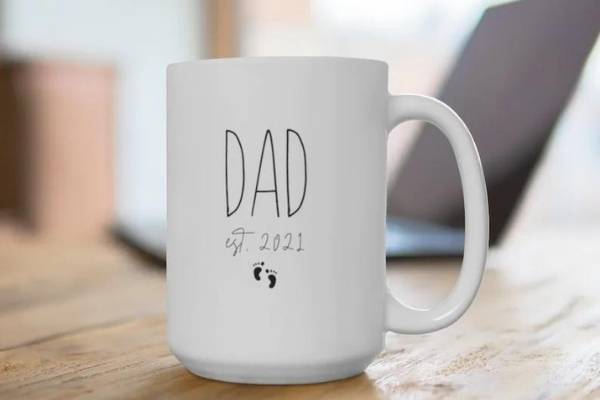 14. Baby and Dad Matching Outfit
There are so many adorable matching Dad and baby shirts or outfits. Check out more new dad and baby shirts here. Here are a few of our favorites:
15. Digital Picture Frame
This Aeezo digital frame allows you to share photos from your phone instantly. Friends and family can share pictures over WiFi. A great way for a new dad to always stay connected. He can keep the frame on his desk and instantly see new moments.
16. New Dad Dog Tags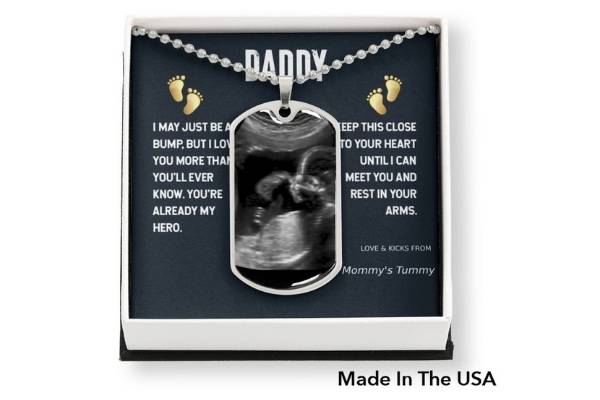 Tech Gifts Expecting Dads Will Love
17. Baby Monitor
The Nooie Baby Monitor is easy to install and simple to use. It is WiFi compatible and works with Alexa. The 1080P HD camera has night vision up to 32ft. Dad will love this new gadget to watch his new bundle of joy.
18. Smartphone Photo Printer
This Kodak PixPro digital camera is a perfect gift for an expecting dad. It has a 42x zoom lens with optical image stabilization giving a crisp photo every time. There is also object tracking, post-editing features, and auto scene. This camera is fun to use and great for any new parent.
20. Projector
Watch movies anywhere with this portable projector that has an anti-wrinkle 100-inch projection screen included. There is a built-in HDMI, VGA, AV, USB Headphone port, and TF card slot. The wide variety of inputs make this the perfect solution for family movie night.
21. Robotic Vacuum
With a new baby, the last thing you want to worry about is vacuuming. This robotic vacuum will ensure clean floors once the new baby is here. With the push of a button, the 3-stage cleaning system loosens, lifts, and suctions small and large debris from carpets and hard floors. No programming is required; press the button.
22. Google Nest Thermostat
Dad-to-be will love this new gadget. With the Google Nest Thermostat, you can easily check your phone to see how much energy you used at any time and why. It has HVAC monitoring and will send you an alert when something doesn't seem right. This edition also works with Alexa.
23. Portable Charger
The Anker PowerCore 13000 may be small, but it has a lot of power squeezed in. It can charge an iPhone 4 times. This little power bank provides a high-speed charge no matter the device and is 30% lighter than other chargers. Dad will never have to worry about his phone dying again.
24. Air Pods
These Apple AirPods will ensure Dad can still watch the game without waking the baby, even if they are sleeping on his chest. These deliver superior sound in a very compact design. The case wirelessly charges them every time you put them away. Any expecting dad would love this gift.
25. Camcorder
Not a moment will be lost once dad has this compact camcorder on hand. If the expecting dad in your life is known for recording things, he will love this camcorder. It can do night vision shooting, remote control photos, used as a webcam, and more. Help dad record every happy moment with his new baby.
Great Expectant Fathers Day Gifts
Expecting moms are usually given a gift on Mother's Day, so why not expecting dads on Father's Day. An expectant father most likely isn't expecting a gift on father's day before the baby is born, but why not spoil him. Get him something he can use now or something he will use later once the baby is born. Let dad-to-me know you are thinking of him on father's day with these great ideas.
What do you give an expectant father for Father's Day?
26. Nespresso Coffee Maker
This Mini Nespresso machine is perfect for those sleepless nights. This machine has a compact design and complements any kitchen decor. The Essensa mini can heat up in under 30 seconds with a single touch and give you a perfect single cup of coffee or espresso. Any sleep-deprived parent can make a delicious cup of coffee in seconds.
27. Grilling Kit
This grilling accessory set has everything you could need and more for the best grilling experience. The set includes a power tong, kabob skewers, spatula, digital meat thermometer, grill cleaning brush, meat injector, and more—a set any grilling master would love.
28. Air Fryer
Healthy and convenient food at the touch of a button. The Ultrean Air Fryer is easy to clean and use. It is a great solution to easier cooking and with little to no oil needed. Fry, Roast, Bake, or Grill.
29. Wet/Dry Shaver
This Norelco Shaver has up to 40 minutes of cordless runtime or about 13 shaves per 8-hour charge. Dad can shave whenever he wants or whenever he has time with this shaver that is always ready to use. The ComfortCut Blades give a clean shave that is comfortable on the skin.
30. Wallet Multi-tool
For whatever the situation, this tool is ready. You can screw things in, tighten bolts, cut, peel vegetables, strip cords, open cans, and more! This compact tool is like the ultimate swiss army knife but in a flat card design. Great for camping lovers, gadget lovers, or anyone in between.
31. Putting Green
Dad can use this simple putting green anywhere. Now, dad can practice his putt whenever he feels like it.
32. Indoor/Outdoor Slippers
This IZOD Moccasin Slipper is a perfect gift for an expecting father. He can wear this comfy slipper inside and outside. Provides warmth and comfort for those long nights and early mornings.
33. Household Tool Set
This toolset is the perfect gift for any homeowner, DIYer, or Handyman. This set can handle most everyday jobs around the house and more. It is easy to carry around, and the organized case keeps everything in place. Stash it at home or in the car for emergency repairs.
34. Robe
No products found.
This lightweight cotton bathrobe will be the perfect Father's Day gift. Dad can enjoy this comfortable gift with any leisure time dad has. This robe has two large side pockets and a fixed belt tie closure.
35. Favorite Sports Onesies
36. Personalized Watch
37. Ultrasound Personalized Frame
38. Personalized Whiskey Glasses
What should expectant fathers do for Father's Day? Do expectant fathers celebrate Father Day?
Yes, expecting fathers should celebrate Father's Day. Get them any of these gifts for their first father's day to help them prepare for the upcoming day or make them feel loved.
Then do something soon-to-be dad wants to do, make it something that maybe he won't be able to do as easily once the baby comes. He will love and appreciate the thought.
Funny Gifts for Expectant Dads
39. FridaBalls
Soon-to-be dad will get a kick out of this gift until that first head butt or heel kick. Parenting can get rough, and the hits keep coming when you're a dad. Get him the protection he needs.
40. Dad Joke Book
Packed with family-friendly jokes for all, dad won't get tired of using this book: puns, One-Liners, and lots of Cheesy jokes. Get dad up to date on his dad jokes.
41. Dad Life Coloring Book
Hilarious adult coloring book for any new or expecting dad. Dad Life Coloring book.
42. Who's Turn Coin
43. Diaper Duty Apron
44. Milestone Beer Labels
Conclusion
The best gift ideas for expectant fathers make them feel appreciated and loved while also helping them prepare for the baby. From gifts to help out around the house to ones that will make you feel like you're a part of the baby-making process, there's something on this list for everyone.
If all these ideas sound too overwhelming or your dad doesn't want anything, try a funny gag gift instead! Celebrate soon-to-be dad before the baby arrives; he will feel appreciated and loved and prepare for the little one to come.