Don't forget about a present for the pregnant mamas in your life. Often, moms get overlooked for gifts because everyone wants to get something for the new baby and not for the mom herself. This is a huge list of perfect pregnancy gifts for first-time moms.
Get a present for your pregnant friend, not for the baby. These are some gifts she will adore and treasure. Whether she is newly pregnant or almost due, you will find something perfect for her on this list. Let's get to it!
Pampering Gifts
1. Belly butter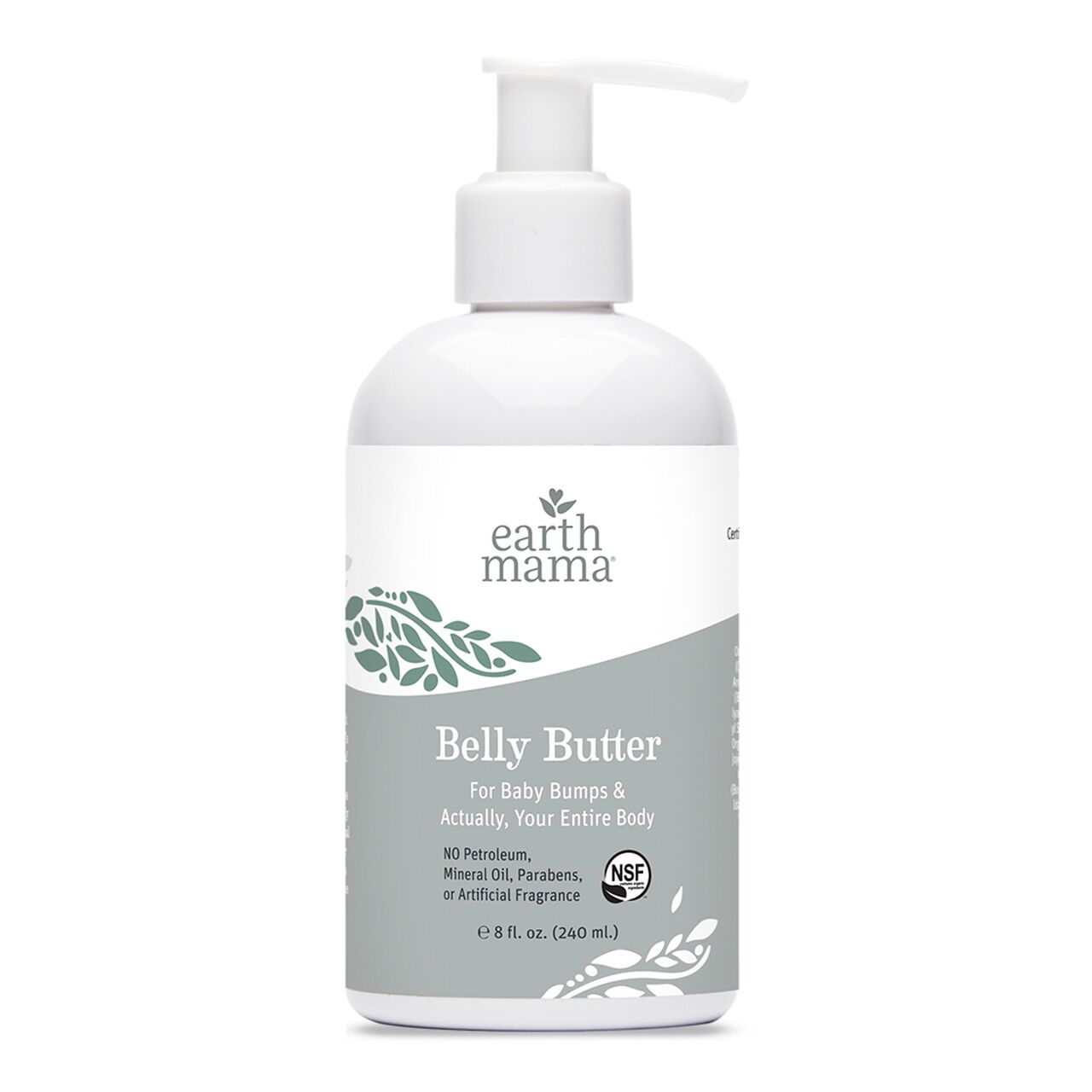 Moisturizing pregnancy lotion made with herbs and oils known to reduce stretch marks' appearance by encouraging the skin's natural elasticity. The scent is mild, so that it won't contribute to morning sickness. Does not contain petroleum, parabens, or artificial fragrance.
2. Belly Oil
Perfect oil for mom-to-be to massage onto her growing belly after a bath or shower. It nourishes the skin with natural essential oils. Like the Body Butter, it promotes skin elasticity to prevent and reduce the appearance of stretch marks.
3. Bath Salt
Pink Stork Pregnancy Flakes. The Magnesium salt flakes help alleviate pregnancy aches and pains, reduces morning sickness, and promote relaxation. Mom-to-be will appreciate these bath salts for her next bath and be able to get a good night's sleep after this relaxing bath.
4. Oil Diffuser
300 ml capacity Diffuser that has 7 light modes and 4 timer settings. It has an auto-shutoff feature for low water levels. Includes 10 therapeutic grade essential oils.
5. Cool Mist Humidifier
500 ml Cool mist humidifier. Has single fill technology, so you have 12 hours of everlasting scent. Auto-shutoff when the tank is empty.
6. Maternity Pillow
Maternity pillows are great for easing the discomfort that comes with pregnancy. This U-Shaped full body pregnancy pillow has a detachable arm added on for extra back or belly support whenever needed.
The portable and less bulky version of a maternity pillow. This sleep support belt fills the space between the mattress and a pregnant belly for a restful and comfortable sleep.
8. Slippers
Slippers are a must-have for mom-to-be. These super fluffy memory foam slippers have an anti-skid sole. They are perfect for moving around the house in comfort. These are also perfect for packing in a hospital bag for delivery.
9. Labor Prep Tea
Herbal Tea for the Third Trimester to help with labor and then promote postpartum recovery. Made with herbs that have been used for centuries to shorten labor and ease contractions. Include red raspberry leaf, stinging nettle, oatstraw, chamomile, and more.
Postpartum Gifts
Posh Peanut's signature robes are a favorite for mommas. These robes are perfect throughout pregnancy, during labor, and for nursing. They are made from bamboo, so they are buttery soft. They also have deep pockets and ties both inside and outside the robe.
And if you feel inclined to get the baby something, they have a newborn tied gown to match. You can also get the matching swaddle blanket. These are also made from bamboo, so they are incredibly soft.
11. Postpartum Pads
Herbal infused sanitary pads that help calm and soothe after childbirth. Super absorbent technology makes these great for daily postpartum pads.
For a more personal touch, you can make mom-to-be a supply of postpartum padsicles —the same idea as above but with an ice pack too.
Fun or Humourous Gifts
12. Lighthearted and Funny Pregnancy Books
We can all use a little humour during pregnancy, and these books are perfect for that.
13. Mixology Books for Mocktails
Just because mom-to-be can't have alcohol doesn't mean she can't have a delicious drink. These mocktail recipes are perfect during pregnancy.
14. Fun Pregnancy Reveal T-shirt
15. Pregnancy Shirt
16. Baby on Board Shirt
17. TerraCotta Planter
A hand-painted terra cotta planter. Available in two different sizes and two different color options. Perfect for a small succulent or other easy to care for plant.
18. Crystal Air Plant
An air plant delicately sitting in silver or gold wire attached to a crystal. Rose Quartz is the perfect crystal for a mom-to-be; it is the stone of the heart. Rose Quartz represents unconditional love and carries soft feminine energy full of compassion, nourishment, and comfort- just like a soon-to-be mother.
Sentimental Gifts
19. Memo board
She can display sonograms or pregnancy photos in style with this memo board. Or notes for upcoming prenatal appointments and anything else she doesn't want to forget. Eventually, it will be overtaken with baby photos.
20. Sonogram Keepsake Frame
21. Personalized Sonography Art
22. Pregnancy Journal
Pregnancy Journals are a great gift for an expecting mother. They can document their pregnancy journey and save momentums too. This journal is filled with prompts and note areas to help remember the important moments. Include 104 pages and a matte hardcover.
23. Beaded Pregnancy Bracelet
Natural gemstones like Moonstone, Rose Quartz, Unakite, and others combined to promote a healthy pregnancy. Healing stones can relieve stress and protect mom-to-be from negative energy.
24. Mama-to-Be Necklace
Mom-to-Be will love this necklace, complete with a heartfelt poem. The interlocking circles necklace is made of sterling silver and comes in 3 colors: Sterling Silver, 18K Gold Vermeil, or Rose Gold Vermeil.
25. Necklace from Growing Belly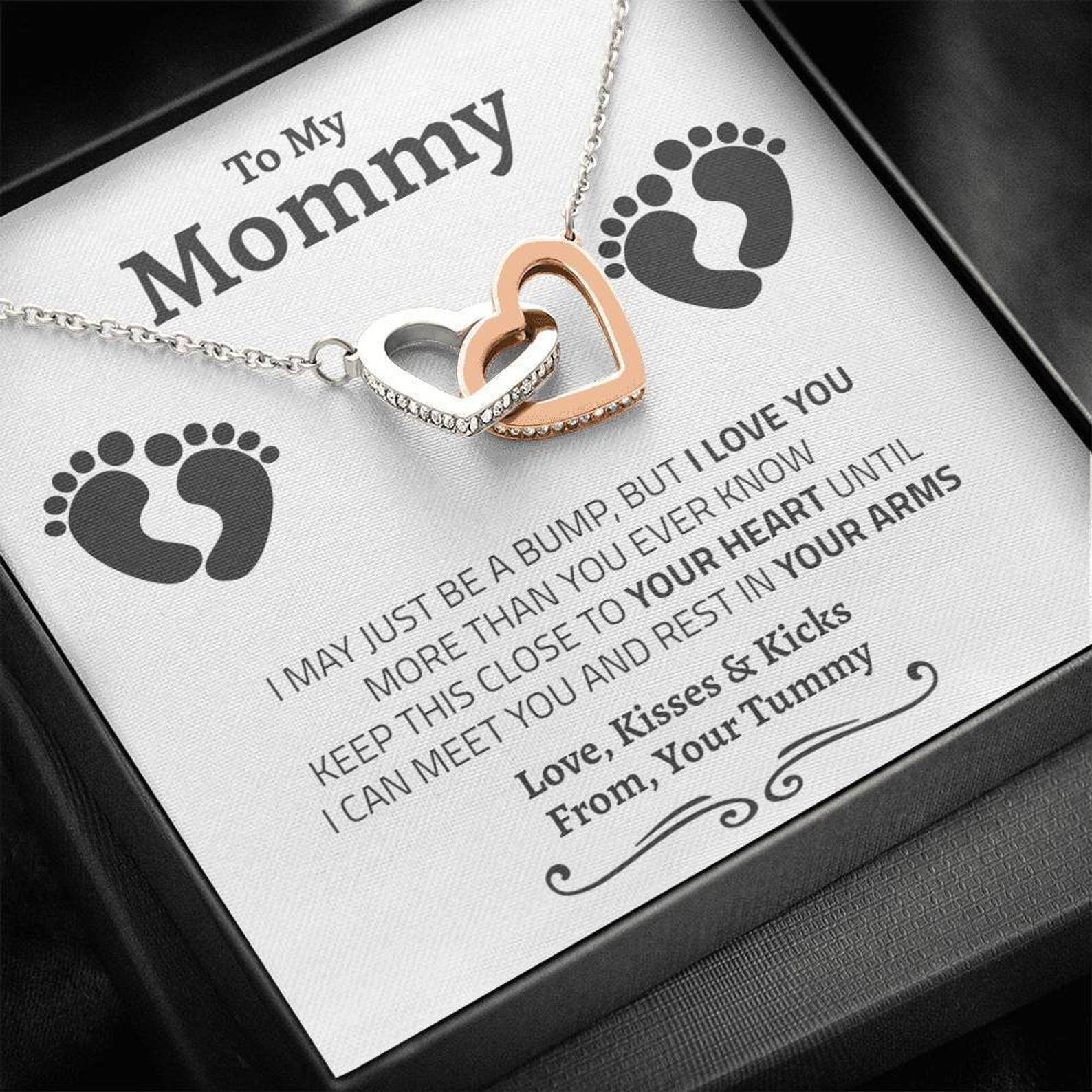 This necklace is a symbol of never-ending love between a baby and their mother. The two hearts are interlocked and made of polished surgical steel. 18″ chain + 4″ extension. The hearts are embellished with cubic zirconia stones. A perfect gift idea for an expecting wife.
26. Molecular Motif Necklace
If mom-to-be has a love for science, she will adore this. The molecule of oxytocin is crafted out of upcycled brass and put on a sterling silver chain. Oxytocin Molecule often referred to as the "love hormone," is what is released when people are snuggling or bonding. Something mom-to-be will be doing plenty of when her baby comes.
You can add two birthstone gemstones on either side of the chain. So, you can personalize for the mom and the baby. The chain can be silver or finished in 18K gold or Rose gold.
27. Baby Handprint Footprint Kit
Useful Gifts
28. Diaper Bag Backpack
This multi-functional and stylish diaper bag expands into a travel bassinet. A great backpack can be used as a to-go bag long after the baby has grown out of diapers.
29. Felt Letter Board
Changeable felt letter board in a distressed wooden frame. Includes 374 letters, symbols, characters, and emojis. It also has a bonus of 9 cursive words. Perfect for displaying a favorite quote, using for bump updates, or monthly updates for the baby.
30. Belly buds
Help mom-to-be connect and bond with her baby. These baby-bump speakers allow mom to safely and easily play music or messages directly to the womb.
31. Compression socks
Pregnancy can cause swelling to the feet, ankles, and calves. Compression socks help relieve and prevent that. The support and comfort ease leg fatigue and improves circulation. Healthy blood flow also reduces the risk of varicose veins. Any expecting mom will love and appreciate these!
32. Kindle
An incredibly useful gift for any new or expecting mom. The super-portable Fire HD 8 is great for streaming, reading, zooming, or anything needed to keep organized while preparing for motherhood. Perfect for bringing to the hospital too!
33. Glider
Get Mom-to-Be a glider she will cherish. This is something that every expecting mom wants but may not end up splurging for one. It's technically not a necessary item for a nursery, but it is a greatly appreciated one. Gliders or swivel rockers make those middle of the night nursing sessions and snuggles comfy and relaxing. Below are some top picks.
34. Robot vacuum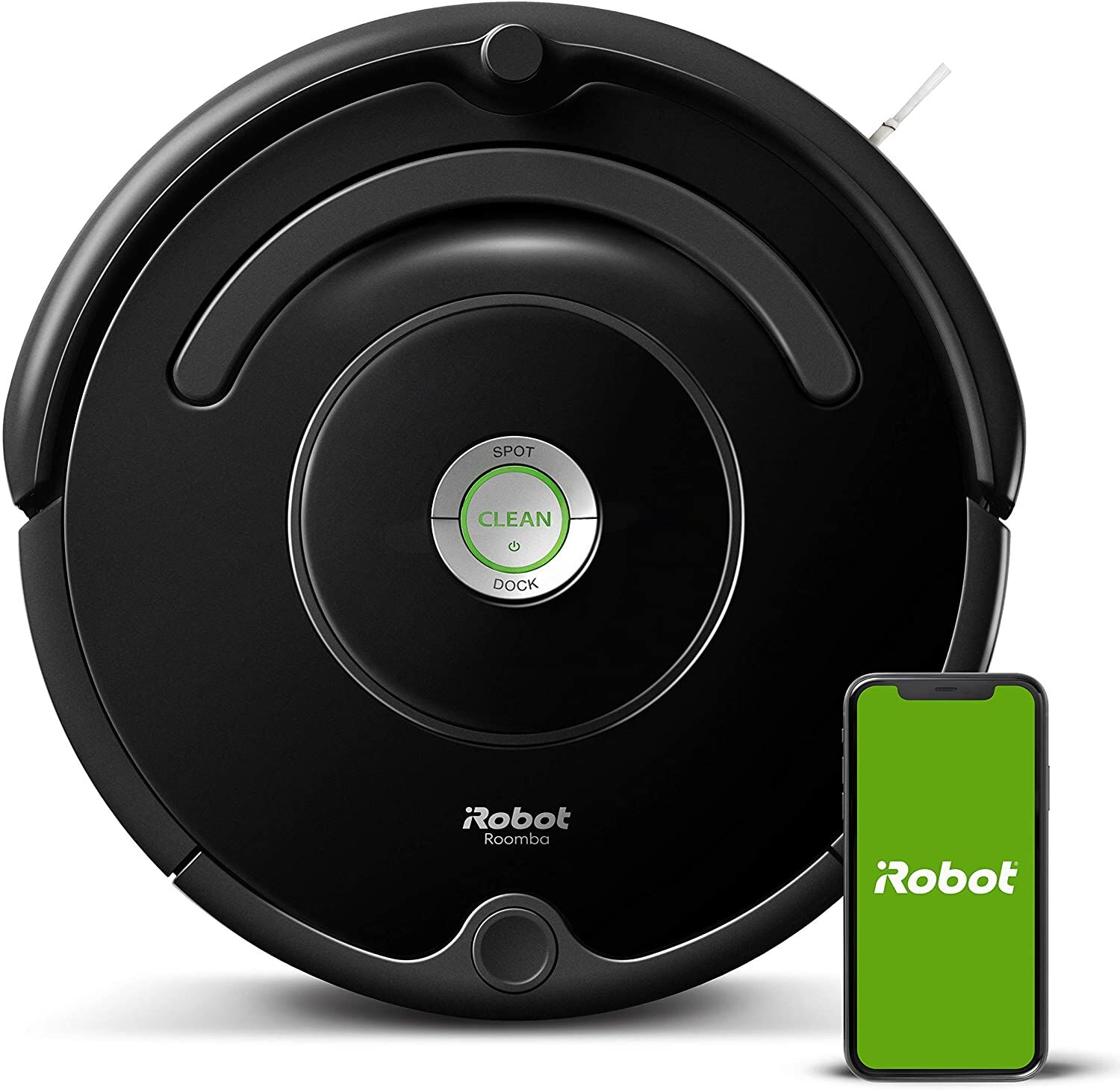 A vacuum? Really? Yes! As her due date gets closer, she will not have the energy for these types of tasks—one less thing for mom-to-be to stress about. And with a newborn in the house, the last thing new parents want to worry about is vacuuming. Now they don't have to!
35. Instant photo printer
Now, mom can easily print out her bump update photos and the hundreds of new baby photos taken soon. Create beautiful photos with the touch of a button from any IOS or Android device.
36. A Baby Language Book
Babies communicate by crying. What if you knew what those cries meant? Now you can with the help of these books. Find out what each cry sound means and how to comfort them, help them sleep when needed. Great books for any expecting parent.
37. Travel Tea Thermos
Tea is a necessity during pregnancy. Certain kinds of tea can help ease morning sickness. With this bottle, you can also infuse fruit, so keeping hydrated just got easier. It can be used for hot and cold beverages.
Pregnancy Gift Basket
38. Expecting Mom Spa Gift Basket
The ultimate spa gift set for an expecting mom. Filled with all-natural bath items like a bath bomb, scented candle, shower steamer, clay mask, and lots more. Add a personalized encouraging note, and you have the perfect thoughtful gift for your pregnant friend.
39. Mommy in the Making Gift Box
40. Bump Boxes
Bump Boxes are gift boxes filled with useful items for the 1st, 2nd, and 3rd Trimester of pregnancy. Get one or all three!
41. Gift Box for First Time Mom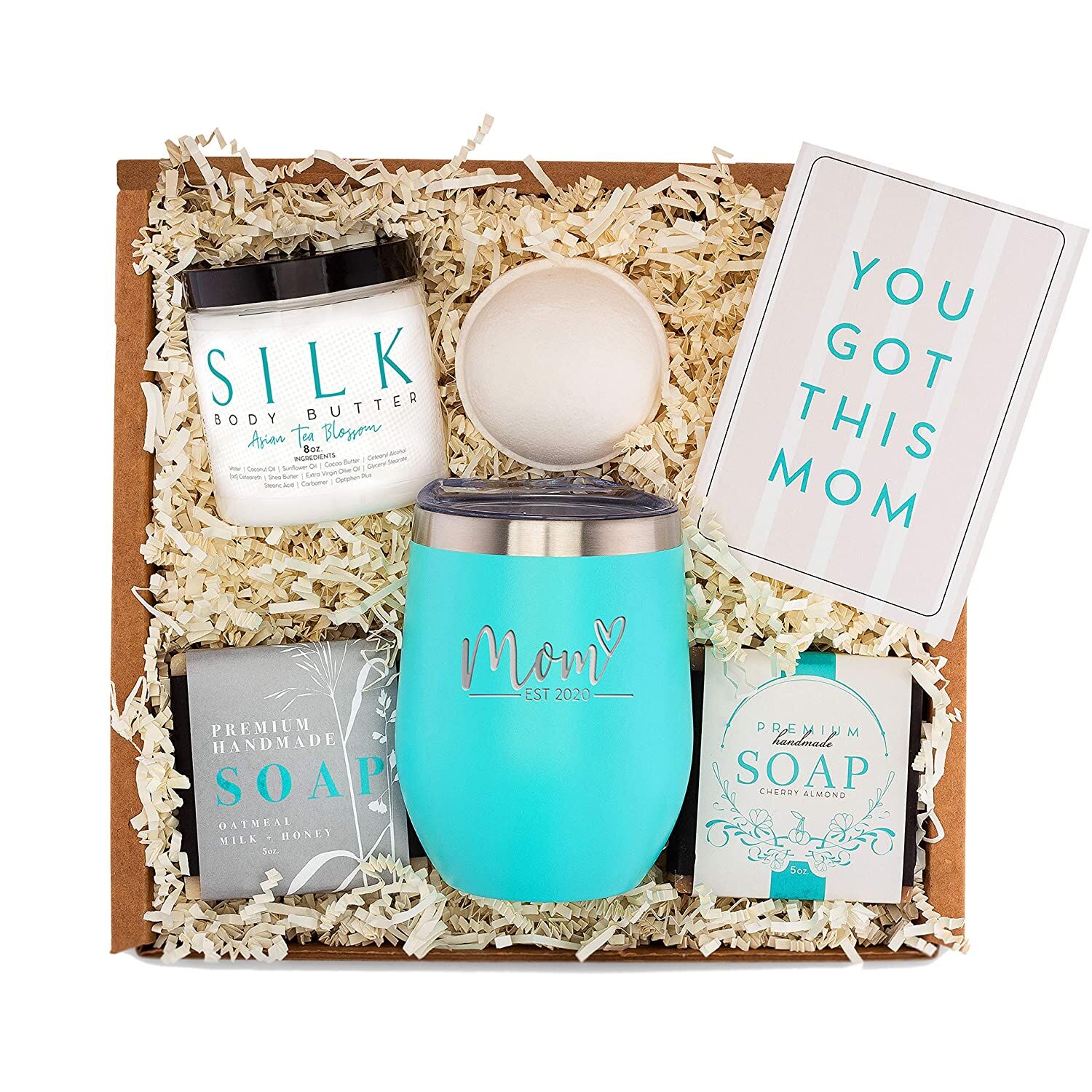 42. Postpartum Gift Box for New Moms
Gift box for a new mom. It can be customized for a vaginal birth postpartum care kit or a C-Section postpartum care kit.
Service Gifts
43. Photoshoot
Get mom-to-be a session with a photographer for a maternity photoshoot or a newborn photo shoot. She will love the thoughtfulness of this gift, and it will be something she can treasure forever. Check out some local photographers and see if they have gift certificates for prepaid shoots available.
What to look for in a gift for a new mom?
When looking for a gift for a new mom, you should consider a few different things. Gifts for new moms don't always have to be about the new baby. Of course, we love getting those adorable outfits for the little ones, but we have to remember that the mom will be getting a ton of outfits too.
So why not get the new mom something she won't be buying for herself. Give mom to be something thoughtful just for her. A few categories that are good to think about when getting a gift for expecting mothers are:
Usefulness- Is she going to find it useful? It can be a useful gift while she is pregnant or useful for when she has the baby. For example, a glider would be perfect. It is something that the mom to be might not want to splurge on, but it would be beneficial for her, and she would love it.
Sentimental- Is it something she can treasure and look back on for great memories? This can be small, like a picture frame for her first sonogram, or something big like paying for a maternity shoot. This will be a gift that she will love because it is something she can treasure forever.
Pampering- Will it help her pamper herself with some self-care? Pampering items are great for first-time or expecting moms. Self-care is not the first thing on their minds while they are pregnant or have a newborn. Make sure the mom-to-be takes some time to take care of herself. She is growing a human, and that is hard work. Give her some items that will help her relax and ease some of the aches she is experiencing.
No doubt mom-to-be deserves a lot of attention and pampering during their pregnancy, but don't forget that dads are expecting too! Check out some gifts that any expecting dad will love and mom too!