Planning a unique and fun baby shower can be quite a daunting task. That is why I want to share some of the best baby shower ideas with you. Fun baby shower activities the guests and mom-to-be will adore!
What do you do at a baby shower?
Whether you are the expecting mom or the best friend planning this event (on behalf of the expecting mom, thank you! this is much appreciated), there is a lot that goes into planning a baby shower.
You need to decide on the decor and a theme, baby-themed food, delicious desserts, shower games, when to open gifts for mom-to-be, and most important – have time to shower the mom with love. Because that is what the whole thing is actually for, right?!
So if you don't want to just play shower games that you've seen over and over I have some great things to do at a baby shower besides games. Read on for some unique baby shower activities mom will cherish.
What can you do instead of baby shower games?
Baby showers are great, the mom gets a ton of necessities for the baby, you get a few laughs, everyone fawns over the belly, and then, grudgingly it seems, everyone participates in the games. So why not just skip the games and instead have some fun baby shower activities.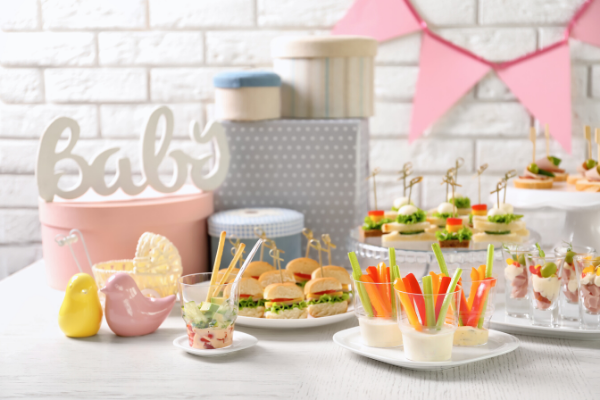 These are great too if it is a shower for the couple instead of just mom because all of these can be co-ed baby shower activities. The spouses won't mind coming to this shower, even if there is a bunch of tiny themed food.
Baby Shower Activities NOT games
Diaper Raffle
Build Baby's Library
Write a Message on a Diaper
Photo Booth
Keepsake Guest Book
New Mom Advice Cards
Baby Wish Cards
Write a Letter to Baby
Create an Alphabet Book
Onesie Making Station
Decorating Blocks
Blanket or Burp Cloth Stamping Station
Decorate Your Own Glass
This list makes it so easy to plan a shower if you want baby shower activities no games. Below is a description of each one and how to set up.
Baby Shower Activities
1. Diaper Raffle
What expecting mom doesn't need a bunch of diapers!? This is so perfect to help a new mom get stocked up with diapers before the baby comes.
How it works
Notify the guests on the invite that there is going to be a diaper raffle. Tell each guest to bring a bag or box of diapers for a chance to win a prize in a raffle. They can get a raffle ticket or Diaper Raffle Cards for each box they bring.
You can either do the traditional raffle tickets that the guest can write their name on or these adorable raffle cards with the theme of the party. Guests put their names on the ticket or card and place it in a large vessel for picking a lucky winner later.
Have mom-to-be choose the winning card out of the container when it is time to announce the winner!
Supplies Needed
2. Build Baby's Library
Ask guests on the invite to bring a book for the baby instead of a card. This is a great way to help mom-to-be build up a book collection for the baby. You can even ask the guests to write a special message for the baby inside the book.
3. Write a Message on a Diaper
Give the future parents something to smile about during all of those dirty diaper changes. It can be a message that is heartfelt, funny, encouraging, or even dirty (if you think the parents to be would find that amusing).
How it works
Have a table with a stack of diapers and permanent markers. You can have an example so the guests know where to put the message so that it doesn't bleed through.
That's it! The rest is up to the guest's imagination. Mom and Dad will be laughing their way through those messy diapers in no time!
Supplies Needed
4. Photo Booth
This is a great way to make sure mom-to-be has a ton of photos from the event. They can be used later for an awesome scrapbook.
How it works
This can be set up in many different ways. You can rent an actual photo booth so guests don't have to take their own photos. Some of them are quite reasonable in price.
You can have a camera or phone on a stand for anyone that wants to take photos. Or you can do it with a polaroid camera. Having polaroids can create an amazing scrapbook for mom-to-be. You can have a clothesline set up that the guests can hang their photos on.
Have as many adorable baby props as you want and pick a backdrop. Then tell the guests to make sure to get a picture with mom-to-be or the parents-to-be if it's a co-ed shower.
Possible Supplies Needed
Meaningful Baby Shower Ideas
5. Keepsake Guest Book
Create a guest book piece of art that can be used in the nursery. Have guests sign canvas with the initial of baby's name. It can be framed later on and used as nursery decor.
Guests can put a thumb print on a canvas and sign it to make up a beautiful picture in line with the theme.
Have a large wooden letter of the baby's initial of first or last name that the guests can sign. There are a lot of Baby Shower Guest Book Ideas on Etsy that can go with any theme for either the shower or the nursery.
6. New Mom Advice Cards
Another great item that can later be put into a scrap book. Have some advice cards available around the room on the tables with some pens available to write mom-to-be some awesome advice. Or just some encouraging words for her. Guests can share the newborn hacks they figured out so far as parents.
7. Baby Wish Cards
Guests write a wish they have for the baby on some wish cards left out on the tables. This is especially great to do if you plan on having a time capsule for your child to open on their 18th birthday. So fun to look back on these best wishes.
8. Write Letters to Baby to open each birthday
Make memories for the baby today to enjoy for years to come.
How it works
Assign each guest an age, 1-18 and they fill out a card for the child's future birthdays. They can write what they think they will be doing at that age or guess what their first word might be, what they think the baby's personality might be like at that age, etc.
Mom-to-be sets cards aside somewhere safe like a card box and pulls out the cards for the appropriate age during each birthday.
Supplies Needed
Baby Shower Craft Activities
Have the guests create things for the upcoming little one.
9. Alphabet Book Activity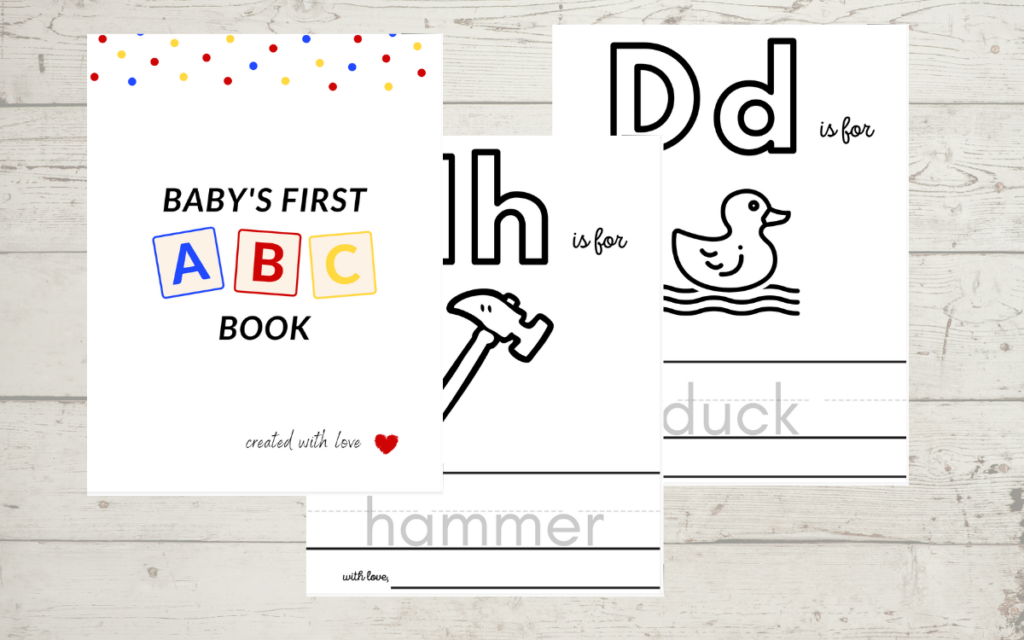 Make baby's first alphabet book. This craft requires a little bit of work after the shower, but it is so worth it. This book will be enjoyed by mom and baby for years to come. It makes a great keepsake.
How it works
This can be made in a few different ways. The premise is that you have printables of the alphabet on pages with space for the guests to draw a picture of something that starts with the corresponding letter. They turn out best on card stock paper. The guest then writes in the word and signs their name.
Or you can print out coloring pages with the letters and pictures and then the guests just color the pages and sign their name.
After the baby shower you could have the pages made into a book by taking it somewhere. Or you can laminate the pages yourself and put rings on it to create a booklet. Instead of just rings on the booklet you can also put it into a 3 ring binder. Or you can put the pages in sleeves and then in a 3 ring binder.
Possible Supplies Needed
Want some FREE printable coloring pages for your alphabet book activity?
10. Onesie Making Activity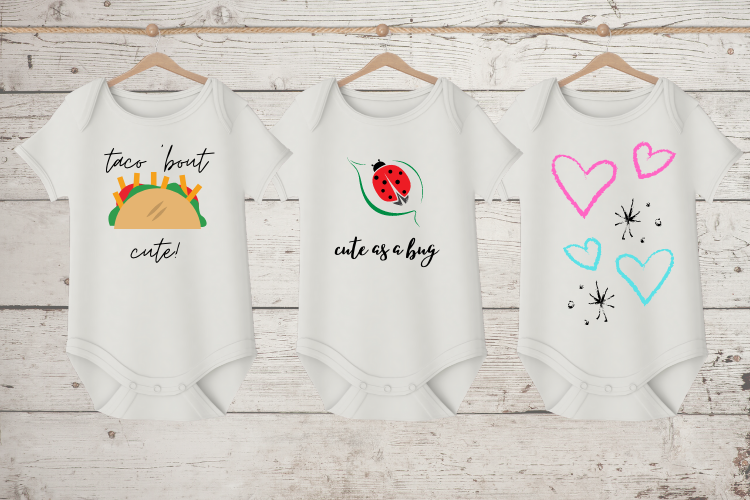 Decorate a onesie for the baby!
How it works
Have a station with plain onesies in all different sizes washed and ready to be decorated. Guests decorate an onesie as creative as they want. Hang to dry. You can use fabric paints, puffy paints, fabric markers, stamps, stencils, or even iron-on patches.
Have a clothes line available to hang up the onesies to dry. The baby now has a personalized wardrobe for months.
Supplies Needed
11. Decorating Blocks
Make baby a set of blocks. This is one of the best baby shower activities for large groups. There are plenty of blocks for the guests to decorate.
How it works
This craft station can be set up in a few different ways. For the first 2 station ideas, you need a set of unfinished blocks. They may need to be sanded a little to ensure smooth sides. For the first way set out the unfinished blocks and have your guests do a letter of the alphabet and fill in pictures on the sides that correspond to the letter with sharpies or non-toxic paint and foam brushes.
Another way is to prep the blocks beforehand by filling in the alphabet yourself and then your guests choose a letter to then draw or paint a picture going with that letter. This gives the actual alphabet a more uniform look since you are drawing all the letters beforehand.
Lastly, if you want an easy set up with no prep, there are kits on Etsy that have everything you need. The guests use mod Podge to attach pre-designed squares on the blocks.
Possible Supplies Needed
12. Blanket or Burp Cloth Stamping
New moms can never have enough blankets or burp cloths. Baby needs to be burped a lot so extra burp cloths will come in handy. Why not get some personalized ones made by your loved ones?
How it works
Have a station with the type of fabric of your choice. Muslin blankets and burp cloths work great for this and turn out beautifully. Have stamps in different designs along with fabric ink pads in all colors and let your guests decorate. Have a clothesline set up so that they can hang up their finished pieces.
Depending on the manufacturer's recommendations for the ink on the fabric you may have to finish the blankets or burp cloths after the party. Make sure you iron over the designs with another piece of fabric in order to set the ink. After about 2 weeks you can wash them and then they are ready to use them.
Supplies Needed
13. Decorate a glass
Have your guests decorate their glass. Perfect to serve their mocktails in! (or actual cocktails if mom-to-be doesn't mind that there is alcohol there). This is one of the most loved baby shower activities for adults. Guests get to take home their own creation!
How it works
Have guests decorate there own wine glass with oil-based sharpies. Make sure to clean the glasses beforehand with white vinegar to remove any excess oil or dirt. This baby shower activity turns into favor for the guests. Win-win!
Supplies Needed
If it isn't possible to have an in-person baby shower you may be thinking of doing a virtual baby shower. I'm sure you are wondering if it is online how can you make it fun and still special for mom-to-be.
How do you make a baby shower fun?
Virtual showers can be fun too! It is all about spending some time with loved ones, talking about the upcoming bundle of joy, and having some laughs. All of these things can be accomplished online if needed.
For your virtual shower needs, I have some baby shower activities that aren't lame. The best part, there is no cleanup! So start planning your virtual event!
Fun Games for Virtual Baby Showers
1. Rock the baby
This game starts at the beginning of the event, once everyone has connected. Ask each guest to hold out their arms like they are holding a baby or a football. Now rock your arms like you are rocking a baby. Once you stop, you are out. The last one rocking their 'baby' WINS!
2. Guess the # in a jar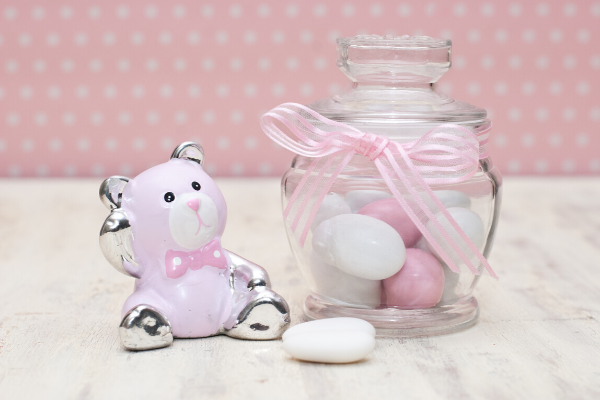 Before the event fill a jar with some type of candy or other small objects. Make sure you count them as you fill the jar. Make it as hard or as easy as you want. Have the jar on display during the event. In the end, have the guests guess how many are in the jar. The closest number WINS!
3. Don't say 'baby'
Let everyone know in the beginning that they can't say 'baby', or any other word you want. Someone can keep track of those that slip. The person that didn't say baby or the one that says 'baby' the least is the WINNER!
4. Parenting Advice
Have some time set aside to give mom-to-be the very best parenting advice. The must-know things all New Moms should hear. The advice you wish you heard before you became a mom.
5. Guess that baby (of guests)
This game requires a little work beforehand. Gather baby photos of all the guests that will be attending. Create a slide show of the photos and everyone guesses who each baby is. Have everyone write down the answers then reveal the correct answers. The person with the most correct answers is the WINNER!
6. Guess that baby and name (of animals)
Create a slide show of baby animals. Have everyone write down their answers of what kind of animal it is and the correct name it is called when it's a baby. For example, a baby goat is called a kid and a baby penguin is called a chick. The guest with the most correct answers is the WINNER!
7. Guess that Disney baby
Create a slide show with all the Disney babies that appear at the beginning of a Disney movie. Have the guests write down their guess which movie the baby is from and/or the name of the baby. Reveal all the answers. The person with the most correct answers WINS!
8. Name that tune
This game requires a little preparation beforehand. Compile a list of either nursery songs or songs that feature the word baby. Play 10-20 seconds of the song or tune and have the guests write down their guess of the name of the nursery song or song. The most correct answers WIN!
Prize Ideas for Diaper Raffle or Virtual Games
Great Prize Ideas if you can drop off in person
Prize Ideas for Virtual Games
With all of these baby shower ideas make sure you are having fun during the activities and don't forget to 'shower mom-to-be with love'! This is the time to celebrate the upcoming baby.