The holidays are here, and you're pregnant. You've already announced your pregnancy to your husband and now you want to announce your pregnancy with family members in person. But, how do you bring it up?
Most of us don't have a lot of experience talking about this topic. We've never had to tell our parents or grandparents that we're expecting before. It can be hard to know what words will come out of your mouth when the time comes.
Here's some advice on ways to announce your pregnancy in person during the holiday season or any family get-together so that everyone is happy for you!
Pregnancy Announcement Gifts for Family
The best way to let the family know you're pregnant is with a gift!
If you're on a budget and need some help coming up with creative ways to announce your pregnancy in person without breaking the bank, then you can't go wrong with the ideas below for the family. The present will be their first hint that they'll be becoming grandparents soon.
1. Give Scratchers at a Family Party
At a family party, give the gift to everyone at once. Everyone will find out at about the same time without you even saying anything. Scratchers are a great gift to give. These scratchers have an extra surprise to announce your pregnancy. Everyone is a winner with these scratchers.
2. Give Gift to Parents at Family Dinner
You don't have to give a gift to everyone at the family dinner. Give a gift to your parents or grandparents to open. If the question of when you may be having a baby is the topic of discussion at most family dinners, this is the perfect onesie to gift someone.
3. Personalized Wine Gift for Host
Bring the host of your family or friends gathering a bottle of wine with a personalized label. It will be fun to see how long it takes for them to notice. Or you can give a hint and tell them that the wine may need to age a bit longer, maybe nine months or so.
Pregnancy Announcement Ideas for Grandparents
If your grandparents have been around for a few decades, then they've probably seen their fair share of pregnancy announcements. Grandparents-to-be will be so surprised and happy when you announce your pregnancy with these creative ways to tell it in person!
4. Bring New Decor to 'Hide' in the House
The holidays are a great time to announce your pregnancy with grandparent gifts to show how excited you are about them becoming great-grandparents. Include a picture of your ultrasound in a cute card with one of these gifts for grandparents.
5. Pregnancy Announcement Card for Grandparents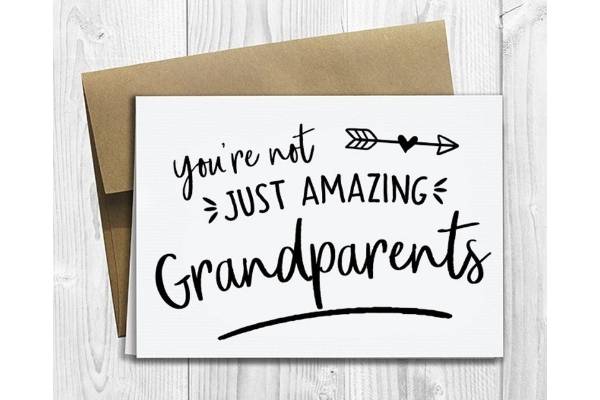 6. Gift Ideas for Grandparents
7. Present Grandparents with Reveal Onesie at Family Gathering
Pregnancy Announcement Ideas for Brother/Sister
If you've just told the family members closest to you, then it's time to share your news with the rest of your siblings. Your siblings will be so excited for you and their upcoming niece or nephew! You can even have siblings help announce they are getting a baby brother or sister.
8. New Aunt/Uncle Gift Ideas
Give your brother and/or sister a special gift to reveal your pregnancy to them. This can be given at a family gathering, during the holidays, or a just because gift.
9. Promoted to Aunt Gifts
These gifts are great for your BFF and/or Sister that will soon become an Aunt. Some of the above gifts can also be personalized for just an Aunt or Uncle.
Pregnancy Announcement Ideas for Parents
Your parents will be so excited to find out that they're going to become grandparents!
10. Promoted to Human Grandparents Card
11. Hang Up a Grandparents Sign
One creative way to let them know is by giving them a sign. Put the words "grandparents" on it and hang it up around their house for everyone to see. You can do this at a family gathering and see how long it takes for them to notice.
12. Baby Reveal Box for New Grandparents
13. Pregnancy Reveal Gifts for Grandparents to Be
14. Another Grandchild Reveal Gift
This puzzle is a fun gift for those parents that already have a grandchild. The puzzle reveals they will have another grandchild.
Pregnancy Reveal Ideas
If you're planning a big family party, this is the perfect time to share your happy news! There are lots of creative ways to let everyone know you're expecting. Check out more fall pregnancy reveals.
15. Baby Announcement Puzzles
One way to reveal that you're having a baby is with an activity or game.
Pregnancy Announcement at Family Dinner
A pregnancy announcement is a time to be with your family and make some fond memories while you can. The best way to do this is by sharing the news of your pregnancy in person.
16. Use Baby Themed Party Plates
17. Baby Themed Dessert
You could surprise everyone by bringing out cookies shaped like baby bottles, onesies, or other baby theme shapes for your family to eat after dinner.
You could give everybody cupcakes with baby theme decorations and frosting for them to eat after dinner.
Every family is different, so come up with creative ways to tell them about your pregnancy that will make it unique! Next time you make a new memory with your loved ones, be sure to hold onto it forever by scrapbooking or creating photo albums.
Pregnancy Announcement at Family Event
Do you have a big family event coming up, like a holiday party or birthday celebration? Then this is the perfect time to share your happy news! Here are some ideas for announcing your pregnancy at family events.
18. Baby Reveal Birthday Gift
Give a card letting them know their real present is on backorder and give a cute Baby Announcement Onesie instead. These onesies can be customized to any recipient you want to give them to.
Sneaky Ways to Announce Pregnancy
There are lots of sneaky ways to let your family know that you're expecting. One of the best ways is to wear a pregnancy announcement shirt and don't say anything until someone comments about it.
19. Pregnancy Announcement Shirt
There's no wrong way to go about this! And don't be afraid to make it a family event. You can announce your pregnancy at a party or dinner; that way you have the extra support from friends and family members who will all be happy for you.
FAQ's for Pregnancy Announcements to Family
1. How to announce pregnancy to parents who live far away?
If your parents don't live in the same state as you, then wait until they're visiting to share your happy news. But if you can't wait until they come to visit, then there are lots of creative ways to tell them through a video or phone call.
After you tell them over the phone, send an email or letter with a photo of the ultrasound. Try timing it so they open the card or letter while they are on the phone with you.
2. How soon should I tell my family about my pregnancy?
Tell your family as soon as you feel comfortable to tell them. Typically people wait till they are about 12 weeks to tell a lot of people due to a chance of miscarriage. So, it would be best if you told the closest people to you first and as soon as possible, so they can help be your support system through your pregnancy.
You could announce your pregnancy at dinner, during a family gathering, or on the phone. Don't limit yourself here, either! Your grandparents might not have an e-reader or tablet that they can look at online, so you can also print out the email message and mail it to them.
3. How to announce pregnancy to the family via text?
Text is a great way to share your happy news if you feel like you don't want to tell everyone in person or if you can't wait for them all to gather.
You could send the message straight from your phone, or you could get creative and attach an ultrasound picture of your baby. It's up to you!
You can send a text that looks like a newspaper article with this personalized template.
4. How do I announce my pregnancy to my family?
The best way to tell your family about your pregnancy is by being honest and telling them in person. You could gather everyone for a party or dinner or have one-on-one conversations with them at different times.
5. How soon to tell your parents you are pregnant?
It's best to tell your parents right away so they can get excited about the new addition! People usually wait to tell people till the chance of a miscarriage is less, but you want your closest support team by your side no matter what happens, so the sooner the better.
If you're nervous about sharing, then sit down with them one-on-one for a casual conversation. You could bring up your ultrasound pictures or give them a letter that you wrote.
6. How do you secretly announce a pregnancy?
Your options are endless! You could tell everyone at a surprise baby shower. Or, give them cookies shaped like baby bottles and frosted with baby shower frosting. They might not understand at first, but once they realize that you're pregnant, then they'll be sure to congratulate you!
You don't have to tell every person about your pregnancy. Sometimes it's nice to keep it personal, like telling only one sibling or letting your best friend know before anyone else.
Conclusion
Try to be creative when announcing your pregnancy. There are many ways you can plan this-from sneaky, funny, or emotional approach. Ensure that you include everyone in the conversation and don't feel pressured to wait for a specific event like a holiday party before telling people who may not live near you.
Family dinners or events are great opportunities to share your happy news with your family. You could also choose to tell close friends or siblings before you even announce it to your parents. If you don't get to see everyone in person, do it with a video chat over the phone. Don't forget to send an email with the ultrasound picture attached so everyone can see it online.
There's no wrong way to share your exciting pregnancy news with your friends and family members. Congratulations on your exciting news!